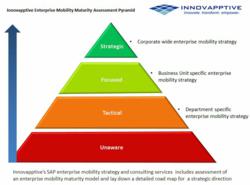 Houston, TX (PRWEB) April 02, 2013
Innovapptive Inc., an emerging SAP enterprise mobility solutions provider, announced the launch of several professional service offerings for SAP customers looking to build and implement a long term corporate enterprise mobility strategy. Innovapptives professional service offerings will complement their growing suite of SAP certified mobile applications and accelerate customer adoption to extend business value to SAP customers looking to go mobile. Furthermore, by combining their SAP enterprise mobility products along with these service offerings, Innovapptive hopes to become a compelling one-stop destination for enterprises looking to scale their mobility challenge.
With the release of these professional services offerings, Innovapptive provides comprehensive suite of enterprise mobility solutions designed to help companies grow their mobile infrastructure. The SAP Enterprise Mobility Consulting offering enables companies to deploy and keep pace with the evolving mobile landscape without having to invest heavily in their development teams. Innovapptives Enterprise Mobility consulting team will work with their customers to perform an Enterprise Mobility maturity assessment to carve out their future strategy. Innovapptive will perform this assessment in several dimensions and focus on laying down a road map to move their customers to the top of the enterprise mobility maturity model pyramid. Starting with an Enterprise Mobility benefit case analysis to a strategy and expertise assessment to technology and user- experience oriented deployments and ending with building the Enterprise mobility foundational policies, Innovapptives experienced team of consultants have all the necessary tools and skills for an efficient mobility solution deployment.
Every company faces the need to empower their workforce to stay competitive in todays market. Innovapptive not only gives its clients the tools, but also the necessary resources to implement these tools effectively. Our team understands user need, business goals and mobile opportunities. As a result, organizations are better able to increase revenue opportunities and improve their employee productivity, while Innovapptive handles the enterprise mobility services component, said CEO and co-founder Hari Kamineni.
Some of the services offered as part of Innovapptive Enterprise Mobility consulting are