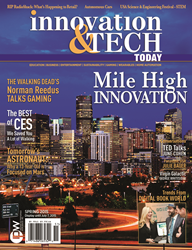 Denver, Colorado (PRWEB) March 19, 2015
Innovation & Tech Today Magazine, the nations quarterly voice covering the newest technology, innovation, leaders, and business disruption, announces its spring issue with an extensive cover-story feature on Mile High Innovation in the Colorado Tech Zone.
The Colorado Tech Zone is one of the most dynamic in the nation, ranking in the Top 5 in all major categories, including job opportunities, technology development, business growth, and STEM-related job income.
The spring issue of I&T Today will debut at the C-Level @ Mile High event on Thursday, March 19th, where it will be made available to all the attendees a full two weeks before public distribution across North America in print and digital format. The annual C-Level @ Mile High event is the largest B2B technology networking event in Colorado and is the Colorado Technology Association's most important fundraiser.
We started focusing coverage on the Colorado Tech Zone and the Colorado Technology Association (CTA) several months ago, Publisher Charles Warner said. It is one of the most dynamic and fast-growing innovation hubs in the nation, and its right here in our backyard in Denver. Since we as a magazine focus on how the latest initiatives, sectors, influencers, and products affect innovation, technology, and customers buying choices, this was a perfect fit for us.
The cover story, Rocky Mountain Tech Explosion, is written by Tim Sprinkle, author of the landmark book on tech zones, Screw the Valley: A Coast to Coast Tour of Americas New Tech Start-Up Culture. In his book, Sprinkle included Boulder, CO as one of the six tech zones on which he focused. Boulder is a major component of the Colorado Tech Zone.
The Colorado Tech Zone section grows from the cover story to feature:


CTA CEO Erik Mitisek, in a question-and-answer interview with Charles Warner and Associate Editor Melissa Hirsch;
WalletHubs Jill Gonzalez talks about Denvers status as the No. 4 most attractive city for STEM-related jobs in the U.S.
Focuses on APEX Company of the Year LogRhythm, and Green House Data, the nations most environmentally conscious data storage and cloud data services provider.
Innovation & Tech Today is published by Innovative Properties Worldwide in Denver, CO, with satellite offices in Clearwater, FL and Portland, OR. It is distributed in print across North America by Curtis Circulation with a cover price of $ 9.99 at every Barnes & Noble location, as well as select newsstands and retail outlets. It is also available on all major digital platforms including Apple Newsstand, Google Play, Nook, Fire, Zinio, Issuu, and Magzter. Subscriptions are also available on http://www.innotechtoday.com
For further information, contact Editor Robert Yehling, or Kelsey Elgie at (720) 708-4250, or email info@goipw.com.