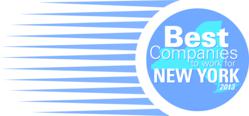 New York, NY (PRWEB) May 07, 2013
Bernstein Medical Center for Hair Restoration was named the number one small or medium-sized business to work for in the 2013 edition of the Best Companies to Work For in New York awards. The assessment, based on a two-part employer and confidential employee survey, showed Bernstein Medical out-ranking companies from New York City, Syracuse, Rochester, and elsewhere in the state.
Robert M. Bernstein M.D., F.A.A.D., A.B.H.R.S., has received plaudits for his innovation and leadership in hair transplantation and medical hair restoration. However, now it is the business he set up to provide the best hair loss treatment possible for patients from around the world that is drawing recognition for its innovation.
Along with the acknowledgment of ranking as the best company, Bernstein Medical was featured in the 2013 awards program with a half-page description of why it ranked so highly. In part, the description reads:
A recognized leader in the development of hair transplantation techniques and clinical research, the center was the third in the world and one of 12 current hair restoration practices to utilize and control the ARTAS Robot in follicular unit extraction procedures. Seminars, meetings and continuing education classes help the physicians, surgical team and front-office staff to maintain a high degree of ethics, innovation and the latest skills.
The long-term, family-forward attitude of the workplace is supported by a retirement plan and package that couples a 401(k) with both safe harbor and profit-sharing benefits. […] A team culture allows those who work there to voice their ideas and opinions with confidence.
Founded by Dr. Bernstein in 2005, Bernstein Medical – Center for Hair Restoration is a state-of-the-art facility and international referral center located in midtown Manhattan, New York City. The center is dedicated to the diagnosis and treatment of hair loss in men and women, with patients traveling from around the world to receive an honest, ethical assessment of their hair restoration options and the most cutting-edge medical and surgical treatments available. In addition to his exceptional surgical skill and keen aesthetic sense in designing a hair transplant, Dr. Bernstein is one of the primary innovators in hair restoration, having authored landmark medical publications that provide the foundation for the follicular unit hair transplantation techniques used by surgeons across five continents.
Created in 2007, the celebrated, annual Best Companies to Work For in New York award is a distinctive program that evaluates and ranks the best places of employment based on employee satisfaction and engagement, as well as workplace practices and policies. Assessment of companies is made using a two-part survey process. In the first part, the employer provides details about company benefits, policies, and practices. The second, and most important, aspect in the ranking is a confidential employee survey in which employees evaluate their workplace experience.
To be considered for participation, companies had to fulfill the following eligibility requirements: