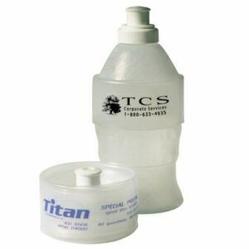 San Francisco, CA (PRWEB) March 02, 2012
The Best Bottle Company, located on the web at http://www.TheBestBottle.com, has launched a unique and innovative recreational water bottle that is BPA-free and can be reused more than 100 times. When empty, the bottle collapses neatly and can be easily stored in a purse, lunchbox. or carry-on luggage. The sturdy design makes The Best Bottle an ideal companion for those who want the convenience of carrying their own drinking water without the negative environmental impact of one-use disposable plastic bottles or bulk of metal and glass bottles.
Watch The Best Bottle video.
Two Million Disposable Plastic Bottles in Landfills Each Hour
"Water is the elixir of life;" said Ryan E. Yip, Ph.D., Founder and President of The Best Bottle Company. "However, the disposable bottles we all use to carry our drinking water leave a lot to be desired." Interviewed at BizTech Day, he added that Americans not only dump 2 MILLION plastic botin US landfills every HOUR, the bottled water industry squanders 18 MILLION barrels of oil annually to produce, transport, and chill bottled water.
Watch the BizTech Day video.
As documented in the film Tapped, the bottled water industry is an 800 billion dollar business in which the FDA allocates one person working part-time to regulate the entire country and does not perform independent water quality analyses, relying on each bottled water company to submit its own analysis. Forty percent of bottled water is drawn from municipal tap water, filtered, and then sold to consumer at a 1900 percent profit.
In addition, one of the largest plastic waste dumps in the world floats in the middle of the Pacific Ocean, the Great Pacific Garbage Patch, which is twice the size of Texas, USA. Plastic constitutes 90 percent of all trash floating in the world's oceans [source: LA Times]. The United Nations Environment Program estimated in 2006 that every square mile of ocean hosts 46,000 pieces of floating plastic [source: UN Environment Program]. In some areas, the amount of plastic outweighs the amount of plankton by a ratio of six to one. Of the more than 200 billion pounds of plastic the world produces each year, about 10 percent ends up in the ocean [source: Greenpeace]. Seventy percent of that eventually sinks, damaging life on the ocean floor [source: Greenpeace]. The rest floats; much of it ends up in gyres and the massive garbage patches that form there, with some plastic eventually washing up on a distant shore. This problem is the focus of the Plastiki expedition, which is sailing a catamaran made from 20,000 plastic bottles around the globe and through the Garbage Patch.
The Best Bottle is the Best Solution
Unlike aluminum, stainless steel, glass, or rigid plastic bottles,The Best Bottle is dishwasher-safe and collapses conveniently into a hockey-puck shape for easy storage. Dr. Yip points out that in airports where security checkpoints restrict carrying liquids, The Best Bottle is an ideal companion since it can be used to replenish your water supply from a tap or a filtered water source.
Worldwide, more than one billion people lack access to safe and clean drinking water. Estimates predect that this figure will reach 2.3 billion by 2025. A staggering 3.4 million people die annually from diseases caused by drinking contaminated water. The practice of carrying clean drinking water in a non-disposable bottle that does not clog landfills and pollute oceans is certainly a step in the right direction. Convenience can be a key element in changing habits away from purchasing disposable bottles.
Information regarding The Best Bottle can be obtained by calling toll free 1-877-786-7936 or by emailing info(at)TheBestBottle(dot)com.
Fabulous Sweepstakes Offer for Facebook Fans
The Best Bottle invites readers and Facebook users to become fans of The Best Bottle Facebook Page at http://bit.ly/BestBottleFan to automatically enter the company's sweepstakes drawing. Visitors to The Best Bottle Facebook fan page can simply click on the [Become a Fan] button at the top of the page to have a chance win five of The Best Bottles.
About The Best Bottle Company
The Best Bottle Company is a San Francisco California-based enterprise that markets The Best Bottle, a non-disposable collapsible bottle. The company can also customize the bottle with a personalized message and logo. and welcomes trade inquiries and institutional orders.
For More Information
URL: http://www.TheBestBottle.com

e-mail: info(at)TheBestBottle.com

Phone:1-877-786-7936
Media Relations
Media Contact: Ryan E. Yip, Ph.D.

email: info(at)TheBestBottle.com

Phone: 1-877-786-7936

Facebook: http://TheBestBottle.ryaneyip.com

Twitter: http://www.twitter.com/thebestbottle
Press Release Summary
San Francisco-based online eco-products retailer, The Best Bottle Company, located on the web at http://www.TheBestBottle.com, has launched an environmentally friendly reusable and collapsible water bottle, which fits snugly into a 2″ wide x 3″ diameter space when not in use. The bottle is ideal for individuals constantly on the go, schoolchildren, and air travelers who are restricted from carrying liquids through security checkpoints.
###