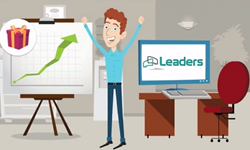 Toronto, Ontario (PRWEB) April 08, 2015
As traditional advertising becomes obsolete, companies continue to invest time and money into strengthening their social media presence. Posting onto platforms like Twitter and Facebook are effective ways of increasing brand recognition, but even this has become problematic. A recent Millward Brown study shows that only 14% of online users trust advertisements from companies, while some 84% trust recommendations from their friends.
With this in mind, The Leaders, an innovative Israeli social media influencers agency, has arrived in Canada, offering North American brands a way to receive the online recognition they seek, and leading social media users a way to profit from their influence. They attest their decision to set up offices in Toronto to a popular study that labels Canadians as the most active Facebook users in the world.
With a growing community of 50,000 influencers in Israel, and having served clients that include Google, Huggies, LOreal, and P&G, The Leaders look to establish a sizeable community of social media influencers throughout Canada and harvest their influence to promote brand recognition and awareness for a variety of clients.
Using their complex algorithm and scoring model, The Leaders identify the most influential Facebook, Twitter, and Instagram users and recruit those who receive the most impressive scores to join their community. Members will become eligible for a variety of goods/services like food items, memberships, cosmetic products, invitations to major events, etc, and will only be recruited for marketing campaigns that suit their personal interests.
"The most reliable and influential sources of information on products are your friends and relatives on social networks," explains Dean Aronovici, The Leaders Canadian General Manager. "Through our trusted word-of-mouth marketing approach, we enable marketers to introduce new and existing products to the masses and ensure they go viral, increasing their brand recognition."
According to Forbes, influencer marketing agencies like The Leaders are able to "generate more than twice the sales of paid advertising," as they are able to foster the power of social media to effectively market products and brands. With The Leaders' Canadian community of social media influencers growing daily, they look to utilize this influence to provide tremendous results for their clients.
About The Leaders:
The Leaders is an influencer marketing agency that connects the leading influencers on social media with the products they want, and companies with the trendsetters that effectively promote brand recognition and awareness. The Leaders use a word-of-mouth marketing approach that allows their clients to reach the next level of digital marketing.