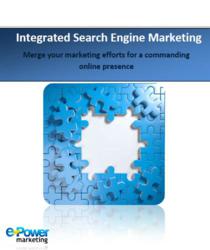 Oshkosh, WI (PRWEB) November 14, 2012
Integrating the marketing efforts of a brand is the best way to create a resilient and profitable online presence. E-Power Marketing releases a new White Paper with guidelines on how to integrate various Online Marketing efforts for best results.Integrated Search Engine Marketing: Merge your marketing efforts for a commanding online presence was created by the experienced Search Engine Marketing professionals at E-Power Marketing to guide effectively incorporating online marketing efforts into a stronger, more valuable online brand and higher return on investment.
In the Integrated Search Engine Marketing White Paper, readers will receive tips and solutions on how brands can develop a commanding online presence by strengthening and integrating the various marketing channels already in use. From Search Engine Optimization to Pay Per Click Advertising, and Social Media Marketing to Blogging, there are so many facets of marketing available to brands today. Integrating those different initiatives is the key to developing a successful marketing campaign. Understanding the importance of integration and taking the steps to actually execute an integrated marketing campaign can be difficult. The experienced team of Online Marketing experts at E-Power Marketing have come together to create an easy to read guide with implementable strategies for brands of all sizes.
The US Digital Media Usage report from eMarketer states that 88.1% of US internet users ages 14+ will browse or research products online and 83.9% of internet researchers will make at least one purchase via the web in 2012. People are researching and buying online. If a brand doesnt have a dominant Web presence, they will lose sales and customers to the competition that does. Integrating a brands marketing efforts is essential to staying successful in the current marketplace. The Integrated Search Engine Marketing White Paper from E-Power illustrates how to put the puzzle pieces together to strengthen an Online Marketing campaign.
Access E-Power Marketings latest White Paper, Integrated Search Engine Marketing: Merge your marketing efforts for a commanding online presence today and contact the E-Power Marketing team for more information and a free Search Marketing Analysis.
About E-Power Marketing

E-Power Marketing has been in business since 1998, growing clients' businesses and online brands. As a full service search marketing firm, E-Power Marketing provides organic Search Engine Optimization, Pay Per Click, Social Media Marketing, Google Analytics, Technical Consulting, Link Building and Local Search Marketing services to clients worldwide. For more information about E-Power Marketing, visit E-Power Marketing's Website or contact Larry Stopa, president of E-Power Marketing Inc., at (920) 303-1244 or larry (at) epower (dot) com.