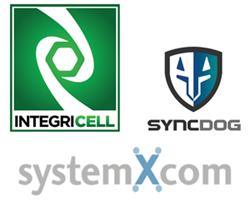 Washington, D.C. (PRWEB) July 31, 2013
IntegriCell Group, Inc., a recognized global leader in mobile security products and consulting services, today announced a partner agreement with SystemXCom, a smartphone and tablet portable communications platform provider. The partnership pairs IntegriCell products Anvil and SyncDog with SystemXComs Absolutely Secure encryption technology.
We are well underway to building the prototype for the worlds most resilient mobile device, said Aaron Turner, IntegriCell CEO. Anvil will secure the device from the hardware to the operating system and implement event logging, while SystemXCom will manage application encryption through their inter-device communications platform.
The partnership brings together dozens of years of experience in enterprise security in both public and private sectors. The solution package for the resilient smartphone will include: