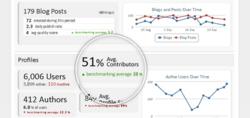 Altrincham
UK (PRWEB) November 08, 2012 — Embargoed until Thursday 8th November 2012 at 12pm
8th November 2012 – Interact, a leading supplier of intelligent intranet software, today announced the release of its game changing analytics package, Interact Analytics. The cutting-edge new module is part of the Interact Intranet version 5.2 release and includes the worlds very first integrated real-time benchmarking tool, which for the first time ever will allow intranet managers to instantly compare their intranets to others of a similar size or sector.
Interact Analytics is the next step in Interacts mission to ensure companies produce healthy and essential intranets. It promises to eliminate out-of-date content, poorly authored documentation or incomplete user profiles and encourage a knowledge sharing culture, whilst increasing colleague involvement through gamification.
VP of Product, Simon Dance comments:
Every intranet in the world faces numerous operational challenges and for many intranet managers, it can be a mystery to why these problems occur. So we developed Interact Analytics with powerful tools that take the guess work out of why an intranet could be failing and provide statistical, hard evidence that can be quickly acted on, to guarantee a healthy intranet.
The integrated real-time benchmarking means intranet managers can instantly see how their intranet compares to others in their sector, so they can target certain areas for immediate improvement.
There is also an exciting new feature Interact Warnings which not only alerts managers to what is currently wrong on their intranet and instructs then on how to fix this, but also tells them what is likely to develop into an issue so they can rectify it before it happens.
The powerful tools in Interact Analytics include: