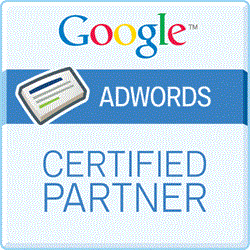 Amarillo, TX (PRWEB) July 31, 2013
Interactive 360, Inc. has added another member of their professional staff to those that have achieved their Google AdWords Certification. Ifrah Kanwal, who was recently promoted from Marketing Project Manager to Search Engine Marketing (SEM) specialist, received her Google AdWords Certification on July 26, 2013. She joins SEM Specialist Cristina Schultz and will help drive traffic to Interactive360 client websites by creating and optimizing Google AdWords paid search campaigns.
Google AdWords allows companies to advertise by entering keywords, domain names, topics or demographics which Google then uses to place advertisements on relevant sites within their network. These PPC or Pay-Per-Click ads can be placed in a variety of areas and the advertiser is charged only when a visitor clicks on one of these ads. They can appear on the results page when a Google search is initiated containing any matching criteria, including searches via mobile devices, across other search engines and even through videos on YouTube. In order to develop a successful campaign the user must be able to determine valuable keywords and determine the correct target audience for each item they are advertising. Interactive 360, Inc. is a Google AdWords Certified Partner and looks forward to adding more professionals who are Google AdWords Certified as the company continues to increase the number of clients they serve.
Interactive 360, Inc. holds many certifications that attest to their commitment to providing the best digital marketing products and services for their clients. They also promote continuing education for all staff members in all areas of digital marketing to ensure that the latest techniques and strategies are being used to create and amplify their clients online presence. For more information on how Interactive 360, Inc. can provide your dealership with a dominant online presence please visit their website at Interactive360.com or call them at 888-762-7407.