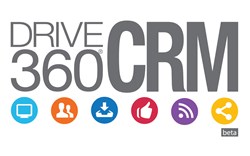 Amarillo, Texas (PRWEB) September 17, 2013
Interactive 360, Inc. is wrapping up the next addition to its full-service product lineup with its socially based CRM system. They are confident that it will provide stiff competition to existing systems in the marketplace. The company is expecting to launch the beta version this month to current clients and will unveil it to the industry at the 15th annual Digital Dealer Conference & Exposition in Las Vegas, taking place October 15 to October 17, 2013.
Although the specific details have not been released, the CRM is expected to incorporate tools such as a Social Media Manager, Lead Manager, Showroom Manager, Marketing Manager, Desking Tool, Follow-Up Planner, Service Appointment Equity Tool and Inventory Manager. Additionally, the system will be optimized on both Android and iOS mobile devices, including tablets.
A unique technique called Sales Force Automation (SFA) will be the motivating driver behind the system. As Interactive 360 CEO, Rick McLey, explains, SFA automates the business tasks of sales, including order processing, contact management, information sharing, inventory monitoring and control, customer engagement, sales forecast analysis and employee performance evaluation. Further, McLey says, DRIVE360