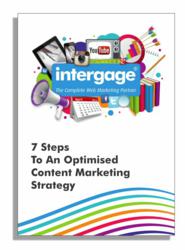 Poole (PRWEB UK) 12 July 2013
Intergage; a Bournemouth and Southampton based digital marketing agency, are leading the way within the digital marketing industry by educating their clients.
Already well known for their excellent array of digital marketing courses, Intergage are now extending their offer by providing clients with lucrative white papers.
The Digital marketing courses at Intergage are a huge hit, with workshops run by the Intergage experts focused on subjects such as Twitter, LinkedIn, Facebook, blogging and much more.
The workshops aim to work face to face with clients from a range of different industries, to help them understand the ways in which they can utilise social media and digital marketing to improve traffic acquisition and ultimately, increase sales.
White papers will be perfect for the clients that are unable to visit the workshops, and will be another means in which the Intergage team can better support their expanding client base.
The Intergage white papers are aiming to educate clients on the events that are happening within the digital marketing world, and by doing this helping them to better execute their online marketing.
The first of the white papers to be published by Intergage was a how to create an optimised content marketing strategy, this follows the astounding success of the March seminar on content marketing. To download your free copy of the whitepaper simply click here.
The white paper focuses on the 7 steps of creating an optimised content marketing strategy, starting from the very beginning at analysing your business goals to measuring the success of your strategy once you have completed the steps.
Although aimed to educate clients about content marketing but the white paper also aims to help walk clients through the process of creating an optimised marketing content strategy themselves.
Clients can not always keep ahead of the digital industry; therefore the white papers will make an excellent addition for clients who arent able to make it to seminars but are interested in learning what changes have taken place.
The focus at Intergage is to provide a full solution to a businesss digital marketing needs, whether they wish to outsource or keep the work in-house, Intergage can provide the support needed.
Paul Tansey, Managing Director at Intergage said: we realise that not all of our clients wish to outsource their digital marketing, so we provide them with the tools and knowledge so that they can do this themselves in-house and our white papers are going to help aid this.
Whitepapers are not all that Intergage use to keep their clients in the know; they create snappy infographics and blogs for more regular updates.
Spanning across a vast area of topics the blogs written by the Intergage team, focus on the upcoming changes within the social world, dispelling social media myths and discussing hot topics.
The innovative agency is also well acclaimed for their regular client seminars with the most recent seminar around the latest changes to Paid Search being a resounding success.
This seminar which was held in June indicates the level of dedication the team at Intergage have for educating its clients about their current content marketing services, and what content marketing means to their clients businesses.
Other web marketing services Intergage offer include copywriting services, organic search (SEO),social media marketing, digital PR services and PPC management services, all of which are vital to a content marketing led strategy.
Intergage is the most recommended digital marketing agency on the south coast, and can provide you with a tailored solution for your web marketing needs.
For more information on our Intergage white papers or Intergages digital marketing services then please contact Sam Fish on 0845 456 102.