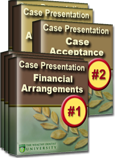 (PRWEB) February 01, 2013
Effective dental marketing relies on a solid plan that utilizes tools and approaches from a variety of angles. The internet and dental websites are important for bringing new patients into the practice. Internal marketing is important for maximizing referrals and revenue from existing patients, yet it's easily overlooked — mostly because most dentists either don't think of it, or don't know how to do it in a way that feels comfortable to them.
That's why the new multiple website packages from Internet Dental Alliance, Inc. (IDA) include bonus video tutorials. They help dentists and their teams learn effective internal marketing skills and how to set up systems that can improve the dental practice bottom line for example, how to increase case acceptance.
Among the bonuses included with IDA's Pro 3 and Pro 5 New Patient Marketing Machine packages is "The Ultimate Case Presentation Program Video Tutorial". This three-part tutorial can be used with both new and existing patients to increase acceptance rates. The step-by-step instructions show how to improve case presentation skills and develop more profitable financial arrangements. They teach how to help patients make better long term decisions about higher-value treatments they need but have postponed scheduling for any number of reasons.
Learning how to increase case acceptance is really one of the easiest things you can do to increase your dental practices profits, said Jim Du Molin, former dental management consultant and founder of Internet Dental Alliance. Its simply a matter of addressing three areas: developing case presentation skills, identifying the financial options that work for your practice and your patients, and refining the way your financial coordinator presents these options to patients. Our video training shows you how to do all three.
IDA's multi-site New Patient Marketing Machine programs feature either three or five customizable New Patient Portals (turnkey dental websites). Doctors can choose the focus of each Portal from more than 25 high-demand dental care categories that fit with their clinical skills e.g. cosmetic dentistry, dental implants, braces, etc. Portals are equipped with automatic search engine optimization (SEO), ready-to-publish professional website content, Facebook page integration, mobile apps and more.
For more information about IDA's New Patient Marketing Machine multi-site lead generation packages and the bonus internal marketing tutorials, visit http://www.InternetDentalAlliance.com/.
About Internet Dental Alliance, Inc.
IDA is the largest North American provider of websites for dentists and dental directories. Its proprietary content generation technology makes it possible for doctors to set up Portals within minutes that attract targeted new patient leads. This cutting edge dental marketing technology uses organic geo-targeted local search, customized and optimized for each dental practice. Internet Dental Alliance provides dental website design, find-a-dentist websites and other dental practice management resources.