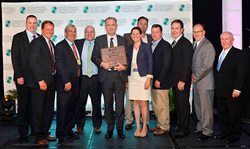 Boston, Massachusetts (PRWEB)
July 17, 2015
The International District Energy Association (IDEA) presented its annual System of the Year Award on June 30 at IDEA2015: Inspiring the Next Generation, the organizations 106th Annual Conference and Trade Show in Boston, Massachusetts. With over 960 people in attendance, IDEA Past Chair Raymond DuBose proudly presented this distinction to Veolia North America for their Boston-Cambridge district energy system.
First awarded in 1993, the IDEA System of the Year Award was originally based on the Building Owners and Managers Associations (BOMA) Building of the Year Award as a means to: provide an industry benchmark for overall excellence; offer a platform for sharing ideas and best practices; identify and recognize systems that demonstrate the strategic value of district energy in the marketplace; and, to showcase how the district energy industry seeks continuous improvement in efficiency and sustainability standards for the communities it serves.
The IDEA System of the Year award has come to be associated with the best of the best. Over the past 20 years, IDEA has recognized numerous outstanding district energy systems, operating at very high efficiencies with flawless service records and very high customer satisfaction reviews. Veolia North America meets all the criteria for evaluation: system performance, energy efficiency, reliability, availability, environmental performance, employee health and safety, community involvement, and participation and contribution to advancing the industry and will rightfully join the ranks of prior winners.
Since acquiring the district energy system in 2005, Veolia has invested $ 168 million on capital and infrastructure improvements, including work to improve network efficiency and significantly reduce environmental impacts. Their recent $ 112 million Green Steam project included the acquisition of Kendall Station and a 7,000-foot steam pipeline extension, enabling up to 75% of their heat supply to consist of recycled green steam.
Due to the pipeline extension and the increased use of combined heat and power, Veolia has reduced the excess thermal energy discharged from Kendall Station into the Charles River, garnering recognition from the mayors of both Boston and Cambridge. The project has reduced SO2 emissions by 61%, NOx emissions by 36%, and GHG emissions by 475,000 tons per year – equivalent to removing 80,000 cars from the road annually or installing the equivalent of 900 football fields worth of solar PV.
Considering the impacts and growing frequency of severe weather events, resiliency has become an important consideration in infrastructure development. Over the past two years, the Boston-Cambridge system has averaged 99.9% availability. With CHP and dual fuel capability, the system is able to continue electrical and steam production when regional natural gas supply is constrained. Taking it a step further, Kendall Station is capable of operating as a stand alone power island in the event of electric transmission outage.
The Veolia Green Steam project has had a significant economic and environmental impact on the community. The project helps the cities of Boston and Cambridge meet their aggressive GHG emission reduction goals. And the $ 112 million project included $ 21 million in labor costs for 147,500 man-hours of high quality jobs for welders, pipe fitters, insulators, among others.
When accepting the 2015 System of the Year Award, Vincent Martin, Regional Senior Vice President with Veolia North America said, We are pleased to accept this important industry recognition from our peers at IDEA and on behalf of the entire Veolia team in greater Boston, we are proud of our contributions to supporting the sustainable growth and improved economic and environmental performance in the cities of Boston and Cambridge. We would not be successful without the support and leadership of those in local and state governments who helped us accomplish this investment in clean energy for the Commonwealth.
The International District Energy Association (IDEA) was founded in 1909 with the mission to foster the success of its members as leaders in providing reliable, economical, efficient and environmentally-sound district energy services. The associations membership consists of over 2000 representatives from utilities, municipalities, universities, hospitals, military bases, airports, industrial parks and other physical plant systems engaged in supplying thermal energy for heating, cooling and process uses. IDEA also represents engineers, architects, consultants, manufacturers and finance specialists who supply services and equipment for district energy systems.