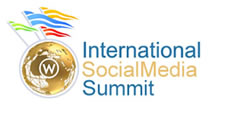 Redding, CT (PRWEB) September 04, 2012
The International Social Media Summit will be launched on December 4th 2012 in Las Vegas alongside SMX Social Media Marketing.
The Summit will focus specifically on international social media topics, instead of the search marketing focus of its sister event International Search Summit. Combining leading specialists in global social media with in-depth discussion groups and networking, the Summit will provide delegates with an arsenal of tactics and techniques for growing an effective social media presence and community around the world.
Social Media is constantly evolving, so keeping up with the changes is a real challenge for many organizations. Throw international into the mix and its gets much more fragmented, says WebCertain CEO Andy Atkins-Kr