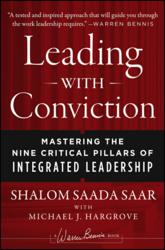 San Francisco, CA (PRWEB) March 13, 2013
There is only so much a business can do to set itself apart. Cutting costs, embracing current technologies, or implementing new business models are strategies seen in nearly every type of business imaginablebut none of these are enough to bring the success and innovation necessary to make a business exceptional. There is, however, one asset that truly distinguishes and elevates a business in the long term: leadership.
In Leading with Conviction: Mastering the Nine Critical Pillars of Integrated Leadership (Jossey-Bass; $ 27.95; February 2013, 978-1-118-44426-9) authors Shalom Saada Saar and Michael J. Hargrove, internationally recognized leadership development coaches, argue that leadership is the only sustainable competitive advantage in todays marketplace. As the latest book in the Warren Bennis series, which is devoted to exemplary contributions to management thought and practice, Leading with Conviction is an exceptional guide to facilitating change through leadership.
Leadership is a quality anyone can learn, which is why the authors make a priority of coaching readers on this elusive quality. After conducting hundreds of coaching sessions, administering 360