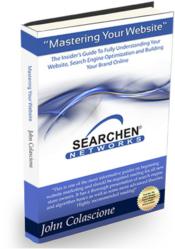 (New York, NY) (PRWEB) June 14, 2013
Internet Advertising Inc., a next generation Internet Advertising Company, has announced the release of a published book written by Internet entrepreneur John Colascione, which educates web site owners on the many questions in regards to successful Internet marketing and search engine optimization
John Colascione, the author of the book dubbed Mastering Your Website, says, This book was written with the intention to spill and spell it all out. The tools and tips, processes Ive used since early 2000 to market websites and more. The book is intended to educate readers about what works, what doesnt and how to save both time and money by working smart.
I guarantee Yes, I guarantee that anyone who reads this book will leave with at least something they will take away and use in trade for years to come. Thats being conservative. No question about it. Its not possible to read this book and learn nothing, Colascione added. This book will change the way online marketers think in regards to the promotion of their website.
The book can be ordered online at either Amazon or Barnes and Noble. To find out more please visit http://www.website-marketing.org. Mr. Colascione is also available to do interviews in regards to the book, why he wrote it and how small businesses can benefit by getting involved and engaged in the net.
Internet Advertising Inc.

INTERNET ADVERTISING INC., a subsidiary of SEARCHEN NETWORKS