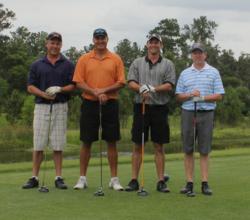 Tampa, Fl (PRWEB) May 17, 2013
"It was a beautiful day at the Golf Scramble, and Image Forward is proud to help Grace Family Church with the Clash Camp. The activities, workshops, message and friendships youth earn at Clash Camp will enrich their lives for years to come". States Michael Huth, CEO of Tampa, FL internet presence management company Image Forward.
The Annual Golf Scramble is our only church-wide fund raiser that we do for Clash Camp. We have a number of single-parent households and families that need financial assistance sending their teen(s) to camp, and we never want finances to be the reason a student is unable to attend. We had a fantastic day at Southern Hills Plantation Club with perfect weather and 16 teams participating. Chick-fil-A provided our lunch and the event was followed by a delicious dinner provided by Carrabba's Italian Grill. Stated Pastor Craig Altman.
What is Clash Camp? This is the Grace Family Church Youth Camp that takes place between June 12-15, 2013 for students going into 6th grade through graduated Seniors. Clash Camp takes place in Daytona Beach, FL and is a Christ-centered conference style camp.
Event Locations:

Grace Family Church is located at 5101 Van Dyke Road in Lutz, FL.

Southern Hills Plantation Golf and Country Club is located at 4200 Summit View Dr. Brooksville, FL.
As part of it's commitment to charitable giving Image Forward sponsors various local organizations with charitable contributions and free internet marketing services, such as this press release.
About Grace Family Church:

Grace Family Church is located at 5101 Van Dyke Road in Lutz, FL. We have 5 weekend services (Saturday at 5:00 & 7:00 PM and Sunday at 8:45, 10:30 AM, and 12:15 PM). Each weekend, we have amazing worship, a relevant, life-applicable message, and dynamic children's ministry for infants through 5th grade.

http://www.gfconline.com
About Image Forward:

Image Forward, a digital marketing agency, helps our clients to drive revenue by leveraging and building audience engagement through the use of proprietary tools including a high recognition local SEO directory system (if-Places) containing over 105,000 local business listings & automated social content distribution system (if-Social). The company provides turnkey Internet Presence Management Solutions to improve brand visibility by establishing a local search presence & publishing high value content to social portals.

http://www.imageforward.com