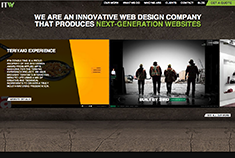 new york, new york (PRWEB) June 29, 2013
ITW Consulting Corp., an award-winning website design and development agency in Toronto, is proud to announce its expansion into online marketing with the founding of ITW Marketing Inc. The newly formed company is the result of a merger between ITW Consulting and Axxoo, a veteran internet marketing firm that has been active in the industry since the beginning.
In coming together, the two firms hope to achieve a more efficient working arrangement, which will benefit clients looking for not only a brand new website, but for a way to realize its full potential as a lead-generation tool. The domains of website design and marketing increasingly intersect, and so combining both under a single roof eliminates resources spent communicating instructions or changes between service providers.
Specializing in search engine optimization (SEO), pay-per-click advertising (PPC) and social media optimization (SMO), ITW Marketing offers a suite of services to help clients broaden their online presence and engage in a more meaningful relationship with their target audiences. The Companys services are backed by regular reports, which make it easy for clients to monitor the success of marketing campaigns and make sound business decisions.
As part of its commitment to the sustained, long-term health of the businesses it works with, ITW Marketing performs proven 'white-hat' techniques. These ethical practices, many of which are explicitly endorsed by Google and other search engines, have gained attention in recent weeks after the release of Google Penguin 2.0, an update to the companys algorithm that led to widespread penalization for unscrupulous SEO tactics. These black-hat methodologies seek to circumvent best practices, and they ultimately trick the search engines into rewarding their efforts with higher rankings. As a result, companies face a weightier decision than ever before in whom they will partner with.
ITW Marketings services are fully customizable, offering clients flexibility in managing their marketing investment. This accounts for the wide range in budgets and goals among businesses, who will never be locked in to a long-term commitment or given a pre-packaged solution when working with ITW Marketing.
The companys website, designed by ITW Consulting, will launch shortly with a detailed description of services and expertise, as well as case studies.
About ITW Marketing
Though new in name, ITW Marketing brings to the table a wealth of experience in SEO, PPC and SMO competencies that have been refined over many years of use and through a flexibility to adapt quickly to the latest developments in the field. ITW Marketings small but well-versed team works closely with clients to formulate and execute a detailed plan, while providing regular updates in black and white.
About ITW Consulting
Having worked with clients across a broad spectrum of industries and locations, ITW Consulting brings valuable insight and a well-rounded perspective to every project. The Company has received awards for its web design and development work, which incorporates the latest technological innovations and SEO best practices. As a full-service web design agency, ITW Consulting performs graphic design, copywriting, front- and back-end development, custom CMS development, video production, database integration, 3D rendering and much more.