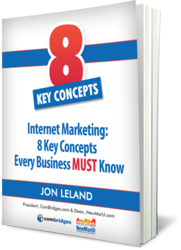 Tiburon, CA (PRWEB) October 26, 2012
Calling his new book the most practical and concise introduction to Internet marketing available, author and keynote speaker Jon Leland is now rolling out a new four-part online course inspired by his new bookwhile also offering free Kindle versions of the book as well as a free introductory webinar in partnership with Small Business Warrior, consultant and author, Christy Strauch.
Leland says, I have never seen anyone put all of the most important digital pieces together so that small businesses are able to take effective action and make informed decisions as they move into the rapidly changing world of marketing online. He affirms that, yes, there are over-arching guiding principals for what Leland calls sustainable online marketing. And, yes, there are also differences between the various different kinds of Internet marketingfrom social media to SEO, and from pay-per-click advertising to video and the visual Web. Leland asserts, In order for businesses to be successful online, they need to understand these eight key concepts, but so far I have never seen them brought together in one concise package. Thats why I wrote this book and why I have developed the related online course.
THE BOOK

The value of this new book, "Internet Marketing: 8 Key Concepts Every Business MUST Know" is endorsed by leading social media author and consultant, Jay Baer, who said, Jon Leland has provided an extraordinarily useful guide that shows the ins and outs of the full breadth of the industry. A great primer and a must-read for anyone taking the digital marketing plunge.
The book is available as both a paperback and a Kindle file (readable on iPads, mobile devices and computers, as well as Kindles) via Amazon.com. See below for how to get the Kindle version for free. Click here for more information about the book including the Table of Contents
THE COURSE

This course will be delivered in four, one-hour sessions, all within one two-week periodstarting on Election Day, Tuesday, November 6th and ending Friday, November 16th. Inspired by the content of his book, Leland has titled this new course, Start with a Solid Foundation: Building on the 8 Key Concepts of Sustainable Online Marketing. It will be presented via the state-of-the-art online conferencing system, GoToWebinar and will include personal consultations for participants as well as recordings and additional reference materials. Click here for more information on the online course including a break out of the four-part course structure
FREE INTRO WEBINAR

Another small business marketing leader, author and consultant, Christy Strauch ( http://www.smallbusinesswarrior.com ) is presenting a free webinar introduction (also via GoToWebinar) on this coming Tuesday, October 30th at 11am PT. This one hour session is entitled, Demystifying Internet Marketing and Christy Strauch and Jon Leland will co-present. Free Internet marketing webinar online registration
FREE KINDLE BOOKS

As a special promotion of this course and the release book, "Internet Marketing: 8 Key Concepts Every Business MUST Know" in the Kindle format will have a price of $ 0.00 (free download) via Amazon.com on Halloween, October 31, 2012 from 12:01am PT to 11:59pm PT. We encourage as many people as possible to take advantage of this offer. Click here to order the Kindle book
ABOUT JON LELAND

Jon Leland has been a marketing communications expert for over 40 years. He is the founding director of creative services at USA Network, a keynote speaker and an award-winning video writer/producer/director whose clients include AT&T, Xerox, HBO, Pacific Bell and Oracle. Among other venues, his video work has been featured at Disney Worlds Epcot Center and the Metropolitan Museum of Art. Most recently, Jon is the author of the new book, "Internet Marketing: 8 Key Concepts Every Business MUST Know." He is president & creative director of the strategic online communications and website design agency, ComBridges.com, and the Founder and Dean of NewMarU.com, New Marketing University, an online education website dedicated to spanning the Grand Canyon Gap between people and technology.
ABOUT COMBRIDGES

ComBridges is a creative Internet marketing agency specializing in social media and Internet marketing strategic consulting for small businesses, custom WordPress website design, online video, search engine optimization (SEO), pay-per-click advertising (PPC) and more. Based just North of San Francisco with a virtual team, ComBridges was founded in 1990 and is led by creative director and 40-year industry veteran, Jon Leland.
Jon Leland is available for interviews, guest blog posts, guest webinars, online summits, bootcamps, keynotes and custom workshops. He welcomes all inquiries and opportunities for win-win collaborations.
To book Jon Leland as a keynote speaker, workshop leader, or to explore another opportunity, please use the ComBridges contact form, http://www.combridges.com/contact/ or call 888.530.5505 (+1 415.454.5505 international), extension #1.