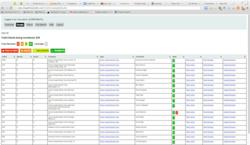 Tampa, Florida (PRWEB) February 06, 2013
What is Review Monitoring? Image Forward's Review Monitoring service is driven by purpose built software which scans the top review and social sites for instances of a company's name being mentioned in an online listing.
Referencing Image Forwards custom internet marketing and partner databases to utilize a deep level recurrent scanning system that sends out instant alerts so a member of the service can be quickly notified of any listing of a company name publicly online.
This empowers those using the software to be the first to review the listing, and take action as necessary before it has a chance to impact a companys online reputation.
The new Review Monitoring software, the latest in a series of offerings for franchise clients by the dedicated internet presence management company, is designed to save time, with consistent reliable reports and alerts, so that it is no longer necessary to spend time searching for and defending an instance of a corporate name on the internet's most popular sites.
Pilot Program: Nov 1st – Dec 31st, 2012

Pre-Launch: Jan 1st – Jan 31st, 2013

Full Launch to existing clients: Feb 1st, 2013

Launch to new clients: Mar 1st, 2013
At the time of offering the platform covers the most popular review placement apps and services.
(Inquire with an Image Forward representative for an updated listing). Current Review Monitoring Locations: Google, Yahoo, City Search, Yelp, and Merchant Circle is coming soon.
Image Forward offers an affordable program with no hidden fees, gimmicks or third party software, states Michael Huth, CEO of Image Forward, as he answers the most popular questions from our clients… What is covered? You, your online presence, any instance of your company name being listed online. Yes a personal name can be monitored too!
There are hundreds of online services and apps where reviews of online business take place. These tools make it easy to review a company, but at the same time they make it easy for negative associations of a business to quickly hit the web as well.
Image Forward's system offers 24 hour coverage by continually monitoring the web's popular review specific destinations that appear at the top of searches, looking for any current or new listing of a registered company's name.
Glen Barnhardt, lead programmer for Image Forward states, Image Forwards Review Monitoring platform was developed with PHP, MySQL, Codeigniter, JQuery, HTML, CSS, and the Google Places API. Barnhardt continues, Where data couldn't be obtained through an API we used proprietary techniques to capture the data from web pages.
Why is this service necessary? Simply because when people search for and see instances of a business name with negative reviews, they are more likely to choose a competitor.
The custom proprietary service is backed by a solid infrastructure and relationship with top directory and reputation management tools that are purpose built, to retrieve, store and notify Image Forward Review Monitoring clients of these listings.
###

About Image Forward

Image Forward, a digital marketing agency, helps our clients to drive revenue by leveraging and building audience engagement through the use of proprietary tools including a high recognition local SEO directory system (if-Places) containing over 105,000 local business listings & automated social content distribution system (if-Social). The company provides turnkey Internet Presence Management Solutions to improve brand visibility by establishing a local search presence & publishing high value content to social portals.

http://www.ImageForward.com