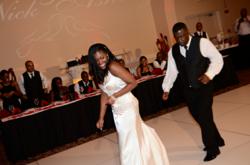 Houston, TX (PRWEB) May 01, 2013
After a month and a half of practice, Ashley Richmond and her father started what appeared to be a traditional father-daughter dance at her August 2011 wedding. They then surprised their guests and broke into a lively choreographed medley of dances that caught the attention of people around the world. She had no idea that their dance, created in the living room of her parents home, would be seen by millions.
This choreographed wedding dance landed her on the front page of Yahoo, Top Five Most Shared Stories on Facebook, Top Five Most Viewed Family Videos on You Tube, and a Good Morning America segment. Her YouTube video currently gets about 200,000 views per month.
As a result of the success of this video and the growing trend of upbeat father-daughter dances, Ashley has launched a website, http://www.daddyslittlebride.com, which helps brides get dance ideas for their father-daughter wedding dance. The site features dance tips to help plan the performance, as well as 30 videos showing how dances from various decades are performed (a new video will be added each month). The site also has a Wedding Corner, containing wedding planning resources, and Ashleys Blog for advice on all things wedding. Later this year, Ashley will also offer choreography services for brides.
My dad and I had such an amazing time creating our dance and that experience will forever be with me. My hope is to help other brides create an incredible father-daughter dance and memories that last a lifetime, says Ashley.
The site launches today, just as the 2013 wedding season begins.