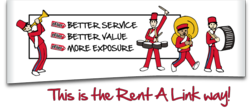 Mission, KS (PRWEB) June 13, 2013
Rent A Link announces its eFlier service. Set up as a one page microsite (website), eFlier sends an unlimited amount of visitors to the clients website, company switchboard, and/or purchase page that appears where people actually seek information in the search results. With an eFlier, Rent A Link clients are able to offer special prices and Buy Now features, and are not limited by character restrictions seen in traditional pay-per-click programs. eFlier allows for visibility in the organic section of a search engine results page for over 80% less than the cost of pay-per-click. In fact, Rent A Link not only hosts and creates eFliers for its clients, but they also guarantee first page results before their clients receive an invoice. No setup fees or paying per visitor, just a simple monthly flat rate that is invoiced to their clients after the eFlier appears on the first page of: Yahoo, Bing and/or Google.
Rent A Link services only allow one client per search term. This means that Rent A Link clients are able to secure first page visibility on any search term without the worry of competition. Pay-per-click programs charge its clients based upon position and the amount of competition. With Rent A Link, the client pays a flat rate per month for 13 months. This process allows corporations to budget actual costs for search engine marketing without having to hire people to oversee various search engine campaigns.
On top of first page rankings in the organic section without worrying about competitors, Rent A Link offers a state of the art reporting program. Rent A Link clients are able to see their rankings in Yahoo, Bing, and Google, along with the number of page visitors and where the visitors come from.
When asked why Rent A Link is so successful, founder Sean Krueger said, Rent A Link is successful because we give what the search engines want, while providing what our clients need – exposure of their products and services to billions of people. Rent A Link creates eFliers based upon what people would want to see while searching on Google, Yahoo, and Bing. We just make it easier for people to find what they are looking for by using the search engines as our vehicle.
To learn more about Rent A Link and its services, visit: http://www.rentalink.com/whatwedo.aspx
To receive a quote, visit: http://www.rentalink.com/pricing.aspx
About Rent A Link

Rent A Link offers complete search engine exposure, backed by a guarantee that states they do not even send an invoice to their clients if their eFliers do not appear on the first page of Google, Yahoo, and/or Bing. Founder Sean Krueger is no stranger to search engines and understanding search logic. In 2008, Krueger sold the Worlds First Meta Search Engine (Veoda) that not only offered social site features but also had its own ranking system. Since Veoda, Krueger has created and sold a Facebook Game called Internet Mobster (iMob) and founded a successful social media marketing corporation called Raving Fans. Sean Krueger is also the Chairman of the Board for Krueger Hotels, the worlds first and only all presidential suite hotel chain. Better Service | Better Value |More Exposure this is the Rent A Link way.