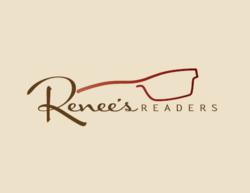 New City, NY (PRWEB) April 26, 2013
Inspired by the changing and positive attitudes towards aging that she was seeing in her own boomer customers, Bachner created Renees Readers offering her customers chic reading glasses with a value for money alternative with the same top-performing quality and the trendy new looks and comfort features as in prescription eyewear, but without the expense. Regular prices start at $ 65, however, now through May 9, 2013 customers can avail of Renees Readers Introductory Sale, and save $ 20 off their first purchase of reading glasses by visiting ReneesReaders.com or visiting her New City store. Discounts will be offered at check out.
Renees Readers are inspired by and named after actual customers. The reading glasses provide sharp, clear vision. The frames flatter a wide variety of face shapes and are available in complexion enhancing colors, along with neutral staples such as tortoise shell and black. Each pair offers both chic style and comfort, with unique features such as long temples with sturdy spring hinges, wide bridges and a larger than usual lens area for easier reading.
A licensed optician with over 25 years of experience and a boomer herself, Renee saw a trend in the preferences of her customers. They wanted quality glasses that could endure the typical rigorous daily use associated with reading glasses, along with practical yet trendy, chic looks that speak to the ageless attitude of todays baby boomers.
I love that so many of my boomer customers continue to follow their long time interests or passionately begin new ventures. Todays boomers can best be described as active and living life to its fullest with varied interests, enriched by their past experiences and progressive in their style choices, says Renee. She adds that Renees Readers is not only made up of a mix of styles that offer a comfortable, put together look, but they also highlight the diversity of our personalities as it translates into our style choices that can range from trendy, chic, classic and retro to funky. Customers can choose from the sexy, geek look of Loni or the smart, chic style of Lisa or anything in between.
As a small local business, Renees Readers is dedicated to giving back to the community. In an effort to support the Alzheimers Organization, a portion of each sale will go to benefit Alzheimers research and support services.
For more information or to purchase a pair of chic reading glasses visit ReneesReaders.com.