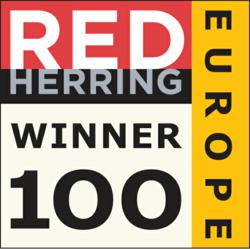 Amsterdam, Netherlands (PRWEB) April 15, 2013
Red Herrings Top 100 Europe list has become a mark of distinction for identifying promising new technology companies.
Selecting startups that show the most potential for disruption and growth is never easy, said Alex Vieux, publisher and CEO of Red Herring. We looked at hundreds and hundreds of candidates from all across the continent, and after much thought and debate, narrowed the list down to the Top 100 Winners. Each year, the competition gets tougher but we believe Intune Networks demonstrates the vision, drive and innovation that define a Red Herring winner.
Red Herrings editors were among the first to recognize that companies such as Facebook, Twitter, Google, Yahoo, Skype, Salesforce.com, YouTube, and eBay would change the technology landscape.
Ian Jenks, Intune's CEO, said, 'Intune have developed a highly disruptive switching system that will revolutionise the way we build networks. Winning the Red Herring award is a great endorsement of the impact this technology is about to have on the networking world.'
Red Herrings editorial staff evaluated the companies on both quantitative and qualitative criteria, such as financial performance, technological innovation, management quality, overall business strategy and market penetration. This assessment was complemented by a review of the track records and standings of similar startups in the same verticals. Red Herring pride themselves on being able to 'see past the buzz and make the list a valuable instrument of discovery and advocacy for the most promising new business models in Europe.
About Intune Networks Limited (http://www.intunenetworks.com)

Intune Networks has developed a brand-new networking technology, allowing telecom operators to scale networks in a way that is simpler to operate, uses fewer components and is far more efficient than any previous system.
Intune has invented a new way of forwarding packets over long distances, creating a distributed optical switch that can switch packets across hundreds of kilometres. Intune's technology uses tuneable LASERs to switch the packets across its system. This reduces network complexity and increases connectivity by making bandwidth instantly available to any point in the network.
Intune are a venture-backed company headquartered in Dublin, Ireland, with offices in the United States and additional research and development facilities in Belfast, UK.