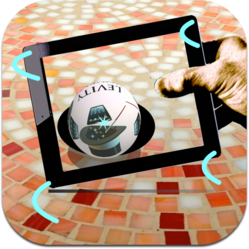 Sebastopol, California (PRWEB) March 14, 2013
Levity Novelty LLC today launched Invisibility 3D, a mind-bending app for Apple iOS devices that uses revolutionary Augmented Reality technology to convince users theyre seeing a live interactive world directly through the device – as if the screen was made of glass. Unlike any previous app, Invisibility 3D lets users play with a realistic virtual ball on their real table by tapping, rolling, and paddling it with their mobile device all while viewing the experience through the handheld screen. It is available today in Apple's App Store for $ 0.99 US.
Invisibility 3D marks a new era in the emerging field of Augmented Reality — 3D virtual reality worlds embedded in the real world. Typical augmented reality experiences rely on live video to estimate the devices motion. This leads to jitter and interruptions that severely limit game play.
ADVANCED 3D TECHNOLOGY

Invisibility 3D instead uses Levity Noveltys patent-pending Pantomime technology, which combines live 3D gyroscope data with a model of how the device is shaped, supported and held. Pantomime knows which corner or edge is resting on the table, and whether the user is swinging the device as a paddle. It uses detailed geometry information like the dimensions of the device and the location of its screen and camera to compute realistic physics, graphics, collisions and sounds as the player swings the device and interacts in 3D. The player sees and hears the iPad or iPhone touch the 3D ball on the table beside it and the ball responds realistically.
INVISIBILITY

To begin, a user simply takes a photo of the table or floor, from directly above, and pinches the image so it lines up with a live camera view. Then a hundred times each second, the app measures how the device is turning in 3D, and draws a perspective view of the table its resting on, seamlessly merged with live video of the table and the room. Theres no clear boundary between the 3D graphics and the real table. From there, all sorts of illusions become possible.
With a mysterious blue acid, users can Rub Away" Apples standard Home screen to see through it, or Rub Through the iPad or iPhone to see the chips inside it and the world beyond. Tipping the device confirms that its not just an image, but a 3D model of the devices front screen, circuit board and inner edges. Users can make an entire layer translucent or transparent by pressing it, and see the real world and the Augmented Reality world through it.
Inventor Dr. David Levitt, a pioneer in virtual reality and touch computing, explains: Pantomime turns an iOS device into a completely new kind of 3D game paddle combining the best of full-body game platforms like the Nintendo Wii or XBOX Kinect with the beauty, power and mobility of iPads and iPhones.
VIRTUAL REALITY GETS REAL

Two decades ago VPL Research sparked a vision of seamless, realistic virtual reality worlds.