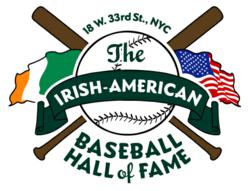 New York, NY (PRWEB) March 14, 2013
The Irish American Baseball Hall of Fame (IAB HOF) today announced the names of the nominees on the 2013 induction ballot. They include: popular former Mets Rusty Staub and Joe McEwing; Big Ed Delahanty, whose lifetime .346 average ranks fifth all-time; Peter OMalley, longtime owner of the LA Dodgers; late night host Jimmy Fallon, star of Fever Pitch"; and Charlie Sheen, who starred in Major League, Major League II, and Eight Men Out.
Results of the voting will be announced in April. The induction ceremonies will take place at Noon on Tues, May 7, 2013, at Foleys NY Pub & Restaurant (18 W. 33rd St.), which houses the Irish American Baseball Hall of Fame. Voters include past inductees into the IAB HOF and a panel of baseball historians.
Hall of Famers and Legends

Roger Bresnahan: "The Duke of Tralee" who pioneered the use of shin guards and batting helmets
"Big Ed" Delahanty: One of the great early power hitters of the game, his lifetime .346 average ranks fifth all-time
Whitey Ford: Winningest pitcher in Yankee history
Former Players

"Super Joe" McEwing: Popular utility player for the Cardinals and Mets, among others; currently a coach with the Chicago White Sox
Dale Murphy: Two-time National League MVP for the Atlanta Braves
Rusty Staub: Popular former Met, Expo, Colt '45 and Tiger; humanitarian
Managers

Joe McCarthy: Yankees all-time leader in managerial wins (1,460), won seven World Series titles between 1931-46.
Jack McKeon: Two-time NL Manager of Year whose 2003 Florida Marlins won the World Series
Executives

Peter O'Malley: Former owner of the LA Dodgers and longtime supporter of Baseball Ireland
Charles Comiskey: Longtime owner of the Chicago White Sox
Media

Bill Madden: Veteran Daily News sports writer
Hal McCoy: Cincinnati Reds beat writer
Dan Shaughnessy: Boston Globe columnist, author of The Curse of the Bambino and co-author of Francona with Terry Francona
Entertainers

Jimmy Fallon: Star of Fever Pitch
Charlie Sheen: Star of Major League, Major League II, and Eight Men Out
Doris Kearns Goodwin: First female reporter to enter the Boston Red Sox locker room, consulted on and appeared in Ken Burns's 1994 documentary, Baseball.
This year's voters have their work cut out for them with such a diverse group of nominees who have put their stamp on the game of baseball, said Shaun Clancy, owner of Foleys, which features one of the countrys most extensive public displays of baseball memorabilia outside of Cooperstown. "Each of these former players, scouts, managers, owners, journalists and entertainers have contributed something positive in their own way."
With the blessing of the Baseball Hall of Fame, Foleys, a popular destination among baseball players, executives, umpires and fans, created the Irish American Baseball Hall of Fame to recognize players, managers, executives, journalists, and entertainers of Irish descent. Inductees are chosen based on a combination of factors, including impact on the game, popularity on and off the field, contributions to society, connections to the Irish community, and, of course, ancestry.
The game of baseball has welcomed immigrants from its earliest days, when an estimated 30 percent of players claimed Irish heritage. Many of the games biggest stars at the turn of the 20th century were Irish immigrants or their descendants, including Michael King Kelly, Roger Connor (the home run king before Babe Ruth), Eddie Collins, Big Ed Walsh and managers Connie Mack and John McGraw. Today, major league teams regularly sign players born in Latin America, Japan, Canada, and elsewhere.
Shaun Clancy, an amateur baseball historian, created the Hall after learning about the rich heritage of Irish Americans in the sport dating from its infancy a legacy overshadowed in recent years by other ethnicities. He decided to celebrate his roots and those who helped make the game great by creating a shrine to Irish Americans in baseball in 2008.
Starting Nine and Subsequent Inductees

The Starting Nine inductees in 2008 were: the late Mets and Phillies reliever Tug McGraw, Yankee announcer John Flaherty, sportswriter Jeff Horrigan, NY Mets groundskeeper Pete Flynn, retired sluggers Mark McGwire and Sean The Mayor Casey, Kevin Costner, star of Field of Dreams and Bull Durham, legendary owner-manager Connie Mack, and longtime official scorer and sports columnist Red Foley.
2009 inductees: Walter OMalley, longtime Brooklyn and LA Dodgers owner (Executive category); sluggers Steve Garvey and Paul ONeill (Players category), Jim Joyce (Umpire); veteran sportscaster Vin Scully, and Ed Lucas, a blind reporter who has covered the Yankees and Mets for four decades.
2010 inductees: Tim McCarver, veteran TV analyst and former player; Bob Murphy, longtime Mets announcer (Media category); Michael King Kelly, the games first superstar (Hall of Famers and Legends category); Yankees GM Brian Cashman (Executives category); Bill James, famed statistician and an advisor for the Boston Red Sox (Executives category).
2011 inductees: Nolan Ryan, baseballs all-time strikeout king, Big Ed Walsh, baseballs all-time ERA leader, legendary New York Giants manager John McGraw, New York Yankees trainers Gene Monahan and Steve Donohue, "Baseball's Balladeer Terry Cashman, and Chuck Lennon, former player, coach and lifetime fan of Notre Dame Fighting Irish baseball.
2012 inductees: Jimmy Breslin, author of Can't Anybody Here Play This Game?; Tom Kelly, two-time World Series champion manager with the Minnesota Twins; Gene Michael, former player, scout and GM responsible for building the modern Yankee dynasty; "Walpole Joe" Morgan, popular former player, scout and manager of Boston Red Sox; Jeff Nelson, longtime reliever, four-time World Series champion with the Yankees; "Wee Willie" Keeler, Dead Ball era legend; and Mike Roarke, credited with teaching the split-fingered fastball to Hall of Famer Bruce Sutter and a supporter in the development of baseball in Ireland.
Foleys NY Pub & Restaurant (18 W. 33rd St.) is home of the Irish American Baseball Hall of Fame. A popular destination among baseball players, executives, umpires, media, and fans, Foley's is located across from the Empire State Building. The "Irish Bar with a Baseball Attitude" features walls adorned with 3,000 autographed balls, bobbleheads, game-worn jerseys, stadium seats and other artifacts that make it the premier baseball bar in New York and one of the best sports bars in America. For more information, call (212) 290-0080 or visit http://www.foleysny.com or http://www.facebook.com/FoleysNYPub.