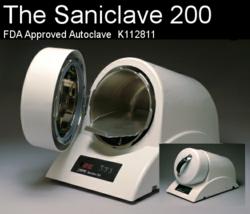 Minneapolis, MN (PRWEB) November 15, 2012
Autoclaves with insufficient sterilization cycle times should be met with serious concern. This is particularly important today because surgical instruments are more complex than ever before. Many older autoclaves lack the longer sterilization cycles mandated today by the FDA. The hospital standard cycle time for a typical steam autoclave should be 30 minutes at 121C. The Saniclave 200 is one autoclave that complies with this standard. Other sterilizers can also reach a higher temperature of 132C for 15 minutes. Shorter cycle times may be convenient, but the risk of dangerous microorganisms surviving the autoclave cycle increases exponentially.
This problem does not just exist with used autoclaves. The FDA allowed several of these older autoclaves with awkward and short cycle times to be 'grandfathered in' over the past few decades. Many autoclaves that were FDA approved 10, 20 or even 30 years ago are still being manufactured today and sold in large numbers. It is like building a brand new Ford Pinto the same way it was built in the '70's. It would not comply with modern automobile safety standards. states Isaac Erickson of Revolutionary Science.
Time and temperature mean everything. One particular autoclave advertises a 126C cycle at 11 minutes. The scary thing about this cycle time is that it is far too short and the temperature is too low. Hospital sterilization cycle times were developed by the ANSI/AAMI ST79 committee and enforced by the US Food and Drug Administration. Enforcement of these common sense standards are an attempt to maintain safety and consistency in the sterilization industry.
Some sophisticated autoclaves, like the Scican Statim have shorter cycle times, due to advanced technology not found in typical gravity displacement autoclaves. They correctly comply with present day hospital sterilization standards, but most autoclaves do not employ this type of technology.
The increasing complexity of surgical devices causes problems when sterilization cycles are insufficient. Proper measures must be taken both prior and during sterilization. Recently, Joe Eaton of the Center for Public Integrity states Decades ago, medical instruments were almost exclusively made of steel and glass, and many looked like the tools used by a butcher or an auto mechanic. Cleaning these tools was simple, and sterilization required little more than a heavy shot of steam. A February Fox News article states Today, doctors use high-tech flexible endoscopes and surgical robotics, which become clogged with debris that is not visible to the naked eye.
John Harrison, who had the surgery performed at a hospital in Houston, developed an infection that ate away at his shoulder bone and rotator cuff. the Fox News article states The infection led to a lengthy recovery time, and he became dependent on nurses to help him dress and shower.
Fortunately, AAMI and the FDA have taken proper measures to improve sterilization cycle times with new autoclaves currently going through the FDA. New autoclaves like the Saniclave 200 have been some of the best weapons developed to combat this problem of insufficient sterilization cycle times.