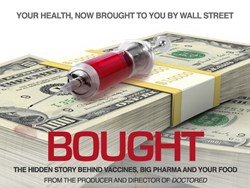 New York, NY (PRWEB) September 19, 2013
Jeff Hays today announced that filming is underway on the new documentary Bought. A new crowd funding campaign at indiegogo.com has an early trailer. Bought is a film dedicated to uncovering, exposing and highlighting the facts all individuals have a right to know.
We already live in a country with a Forced Childhood Vaccination Program which is a trojan horse for the nanny state. What happens if mothers are no longer given an option for exemption from vaccinating their child? Who has the right to decide whats injected into a child and whats not? Parents are designated as legal guardians, yet with the changes taking place, parents may need to list the government as a co-guardian when it comes to vaccinations, said Jeff Hays, producer of Bought. With Obamacare, even adult healthcare workers are being required to have the flu vaccination and those that refuse, are losing their job. This is being done in the name of preventive care, but at the expense of our personal right to choose what goes into our body.
Why does Jeff Hays view this as a forced childhood vaccination program? Look at the facts:

32 states DO NOT allow a philosophical exemption from vaccines (i)
50 states allow medical exemption from vaccination. However, in many states, the health department will review the doctors exemption and revoke if it the health department officials dont think the exemption is justified (ii)
2 states do not even allow for a religious exemption which can be considered a violation of the First Amendment rights (iii)
Why does Jeff Hays wonder if under new guidelines this is being forced on adults? Healthcare workers are the first group of professionals forced to get flu vaccination or lose their job. Look at the facts:

Healthcare-Associated Infections (HAIs) Increasing Influenza Vaccination Coverage Among Health Care Personnel (the group), has recommended that hospitals around the country implement a program to increase flu immunization rates to 90 percent by 2020. (iv)
Who is included and considered a healthcare worker?