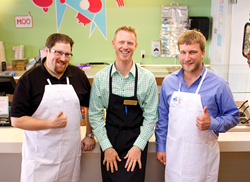 Boulder, CO (PRWEB) November 18, 2014
Ramblin Jackson, a web marketing and video production company based in Boulder, Colorado, is pleased to announce its acquisition of iSupportUs web operations. iSupportU is well known in Boulder Country for providing peerless IT support to businesses and individuals along the Front Range. Their move away from WordPress website design services will allow them to focus more on their IT Services lines of business, which they will continue to provide with the same high standard of professionalism and customer service their clients have come to expect. These services include monthly support, desktop and server maintenance, phone systems, training and networking.
With both companies having been in business since 2009, Ramblin Jackson and iSupportU serve numerous companies along the Front Range that run the gamut from local breweries like Avery Brewing Co. to international consultant groups like RSTN and international brands like GE Healthcare. Both organizations are proud to offer an array of essential tech tools to businesses in Colorado.
iSupportU offers IT support services to some of Boulder Countys most recognized organizations such as Bhakti Chai, Weldona School District and CU Law School. iSupportU is also known for being environmentally conscious in their business practices. They utilize sustainable technologies such as LED lighting, smart heating/cooling and e-waste recycling for their business clients.
"Its important to focus on your core. iSupportU has been providing web design services for years, but we never got deeper into the marketing services space. This shift will allow us to focus on what we do best. Our support services for businesses are what excites the team to show up every day. We love helping out clients fulfill their goals by utilizing the best fit technology out there ," iSupportUs Founder and CEO, Shaun Oshman said.
Ramblin Jackson specializes in helping its clients get discovered online by using a tried and tested SEO methodology and the latest in website analytics software. By breaking down the numbers they receive over time they can make suggestions and additions to a site until it meets their clients goals. Because the ranking algorithms used by Google and other search engines are constantly changing, Ramblin Jacksons process is designed to respond to updates both on the client side and with emerging technology.
In addition to website design, Ramblin Jackson also offers video production services, social media packages, and content management to keep their clients sites relevant and interesting. Measuring the impact of their multimedia campaigns and how those campaigns drive traffic to their clients is an important part of their process. With the acquisition of iSupportUs web operations, Ramblin Jacksons team looks forward to expanding their network to a number of excellent local companies.
"We're excited to help iSupportU's web design clients with the rest of their marketing needs, Ramblin Jackson Internet Marketing Director Jack Jostes said. This acquisition will allow iSupportU to focus on business IT services, and with Ramblin Jackson's help, their former web design clients will grow their businesses with SEO, video, and more."
"WordPress websites require a certain degree of maintenance, updates, and backups in order to be kept current and to prevent them from being hacked. We recommend that all of iSupportU's website design customers contact us for a free website consultation to make sure their sites are up to date and secure," Jostes said.
Now, with little or no overlap between the two companies in terms of services offered, each is clear to refer business to the other and work together to overcome technical challenges facing Boulder businesses. With a plethora of entrepreneurial ventures and promising startups in the region, both Ramblin Jackson and iSupportU are looking forward to a busy fall season. Contact Ramblin Jackson at (303) 544-2125, info(at)ramblinjackson(dot)com, or visit http://www.ramblinjackson.com/isupportu