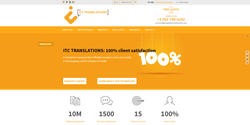 Jupiter, FL (PRWEB) April 30, 2015
ITC Global Translations is pleased to announce the launch of its fully-featured, mobile responsive website http://www.ITCGlobalTranslations.com. The new site has a modern look that is content-rich and offers a user-friendly online experience.
I am so excited about the new website, said Celine Imbaud, ITC Global Translations Founder and General Manager. The bright orange color and animated logo are a great representation of our dynamic company.
The new ITC Global Translations website is designed to assist those looking for professional industry specific translation services. The site contains an extensive index of industry specific content highlighting the companys vast fields of specialized translation services including medical and pharmaceutical translation services.
The new site also features a new Free Quote feature that streamlines the process of making contact and getting started with ITC Global Translations. A client can obtain an accurate quote, specific to the job in question, by using the upload document feature on the Free Quote form.
ITC is such a forward thinking and innovative translation company, said Allison Paxton, US Business Development Executive. I think this new design will really show that to our customers.
About ITC Global Translations
Established in 1999 by founder Ms. Celine Imbaud, ITC Global Translations is an international Woman Owned, professional translation company with offices in Lissieu, France; Jupiter, Florida; and Montreal, Canada. They are fully European EN 15038 standards certified. In addition, ITC Global Translations is HIPAA certified. A privately held company, ITC Global Translations was established to remove cultural barriers and open communications and new markets for its Client/Customers. This business to business translations company specializes in Medical and Pharmaceutical industry translations worldwide. They also provide translation services in a wide spectrum of industries including Biopharmaceutical, Biotechnology, Agro-Food, Marketing, Medical, Technical, and Tourism.
ITC is accustomed to working from an international point-of-view and to communicating with people around the world, and its staff members are happy to apply this insight in assisting clients with their global communication needs. ITC applies translation industry best practices to offer turnkey translation solutions at competitive prices. The key to ITCs success is a combination of expert linguists, rigorous processes, and high standards.