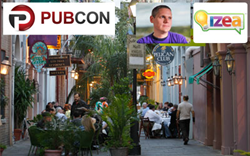 Austin, TX (PRWEB) February 28, 2014
Pubcon Las Vegas 2014, the premier social media and digital marketing conference, is happy to announce a major keynote presentation by noted serial entrepreneur Ted Murphy, founder, chief executive and chairman at IZEA (OTCQB: IZEA), who will highlight one of the years biggest and best technology events this fall at the massive Las Vegas Convention Center.
Murphy, a serial entrepreneur who has founded six companies since 1994, will deliver his first Pubcon keynote address during the week of Pubcon Las Vegas 2014.
Murphy has been called the father of paid blogging and is largely credited with creating the social sponsorship industry. In 2006 Murphy launched PayPerPost.com, the first online marketplace that paid bloggers to create content on behalf of brands. Murphys vision for democratizing content and influencer compensation is now a reality in most marketing strategies, from top brands and agencies to small businesses.
Murphy has bootstrapped companies off credit cards, been VC backed and most recently brought IZEA public. His disruptive approach and leadership have enabled him to raise over $ 38 million in equity for his entrepreneurial endeavors in both public and private markets. Murphys backers have included top-tier VCs Draper Fischer Jurvetson and Village Ventures, as well as billionaires including John Poppajohn and Dr. Phillip Frost.
Im looking forward to delivering a keynote to the entrepreneurial minded attendees at Pubcon Las Vegas 2014, Murphy said. I am proud to join the list of past keynote presenters such as Tony Hsieh, Guy Kawasaki, Craig Newmark and Satya Nadella, he added.
Being an entrepreneur is akin to riding on a roller coaster blindfolded while on fire, Murphy explained. Your world can flip from the top to the bottom at a moment's notice. The winners dont dwell they learn, adapt and move quickly. Im excited to share my first-hand experience both the highs and lows from almost two decades of entrepreneurial pursuits. My goal is to inspire others to look past the setbacks and obstacles and focus on achieving their dreams," Murphy said of his upcoming Pubcon Las Vegas 2014 keynote.
Murphy has consulted for some of the worlds largest marketing organizations including FOX, Bombardier, General Motors, SeaWorld, and Disney, and has negotiated deals with celebrities such as Kim Kardashian, Diddy, and Mario Lopez. Murphy is a prominent television commentator on technology and social media marketing trends and platforms, and his unique point of view from the intersection of media and technology has led to frequent appearances on Fox Businesss Varney & Co., CNBC, and Bloomberg TV.
Were excited to feature Ted Murphy in a major keynote at our big Pubcon Las Vegas 2014 event, said Brett Tabke, Pubcon founder and chief executive. Teds inspiring entrepreneurial success speaks for itself, and were thrilled to have him present an innovative and boundary-pushing keynote at the Las Vegas Convention Center on October 6 9, Tabke added.
Murphy has been awarded a Stevie for Maverick of the Year, and is a member of the IAB Native Advertising Task Force and the Young Entrepreneurs Council. He has been a TechCrunch Disrupt Finalist, PepsiCo 10 Finalist, and has been named as one of the Top 20 Most-Influential Businessman in Central Florida" by the Orlando Business Journal. Murphy is the founder of Trucks & Tech, a Central Florida event that brings together food trucks and the tech community. He also sits on the Board of OrlandoIX an 80,000 person interactive event coming to Orlando in 2015 and has overseen the development of IZEAs market leading Sponsorship Marketplace and IZEA Exchange.
Pubcon, a Forbes must-attend conference and an Inc. top conference for growing your business, will hold Pubcon Las Vegas 2014 on October 6 9, supported by the industrys leading businesses, speakers, exhibitors, and sponsors involved in social media, digital marketing, search engines, and optimization, offering an in-depth look at the future of technology presented by hundreds of the worlds top speakers in hundreds of provocative and cutting-edge sessions.
Mark your fall calendar and make plans to join Murphy and at least five additional major Pubcon keynote speakers to be announced in the coming weeks for Pubcon Las Vegas 2014 the search marketing event of the year in one of the most entertaining cities in the world.
Learn more and register at http://www.pubcon.com.
About Pubcon
Pubcon is a multi-track educational conference hosted by Pubcon Inc. Pubcon, supported by the industrys leading businesses, speakers, exhibitors, and sponsors involved in social media, Internet marketing, search engines, and online advertising, offers an in-depth look at the future of technology presented by the worlds top speakers in provocative cutting-edge sessions.
For more information about the conference, contact Brett Tabke at 512-231-8107 or brett(at)pubcon(dot)com.
For more details about sponsorship and exhibition opportunities, contact Conference Director Jeff Randall at 512-686-1295 or jeff(at)pubcon(dot)com.