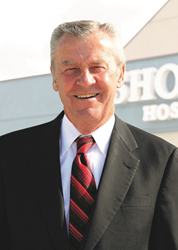 LENEXA, Kan. (PRWEB) March 24, 2015
Jack Casey, Administrator of Shodair Childrens Hospital, will retire later this year, capping a healthcare career that spans almost five decades. His successor will be announced at a future date.
For 28 years, Jack has provided exceptional leadership at Shodair Childrens Hospital and served as a strong advocate for child and adolescent care in the state of Montana. He will be missed, said Rita Gowen, chairman of the board of Shodair Childrens Hospital. Jacks successful tenure with Shodair can be attributed to his passion and support for Montanas children and families, his ability to cultivate close working relationships with co-workers and hospital staff and his capacity to collaborate with healthcare and community leaders from across the state.
It is Caseys extensive healthcare experience and excellent leadership skills and vision which enabled Shodair Childrens Hospital in Helena, Mont., to become the states premier provider of psychiatric treatment and comprehensive genetic services. In addition to providing acute psychiatric inpatient, residential treatment and genetic services, Shodair Childrens Hospital is proud to be Montanas only Childrens Miracle Network affiliated hospital.
Casey joined Shodair Childrens Hospital as administrator in 1987. Under his leadership, the hospital has grown significantly, meeting the expanding needs of children and adolescents in Montana. In 1999, Casey led the construction of a new facility and current site of the hospital. In 2004, he expanded the hospitals service offerings to include the Acute Psychiatric Inpatient program which supports emotionally and behaviorally impaired children and their families who are in crisis. The unit accommodates up to 20 children from ages three to 18. Casey was instrumental in the passage of Montanas hospital provider tax, working with community and healthcare leaders from across the state to secure sound financing for the hospitals future. Casey serves on the board of directors of Yellowstone Insurance, RRG, a medical malpractice insurance company formed by hospitals in Montana, Idaho, Wyoming and New Mexico. He also serves on the board of directors of Consensus Management of Nashville, Tenn., the captive management company that operates Yellowstone Insurance, RRG.
Before joining Shodair Childrens Hospital, Casey held health administration roles in both the private and public sectors. He served as administrator at the Stillwater Community Hospital in Columbus, Mont., the Department of Institutions for the State of Montana in Helena, and the Sunrise Ranch Alcoholism and Chemical Dependency Treatment Center in Helena. Casey began his healthcare career as a medical technologist in his hometown Anaconda, Mont., and then ran a drug research laboratory for the University of Montana Foundation at Montana State Prison. He served as supervisor of clinical chemistry at the U.S. Army Hospital at the United States Military Academy at West Point, N.Y.
Casey earned his bachelors degree in medical technology from Carroll College in Helena, Mont. He also attended the University of Minnesotas Independent Study Program for Hospital and Health Care Administration. In 2010, the Montana Hospital Association (MHA) awarded Casey the Lifetime Achievement Award.
Shodair Childrens Hospital has selected B. E. Smith to conduct a national chief executive officer recruitment for Caseys successor. Recognized as the top executive search firm in the healthcare market by Modern Healthcare, B. E. Smith is located in Lenexa, Kan. With over 35 years of experience, B. E. Smith will provide professional assistance and resources during the recruitment process, working with Shodair Childrens Hospitals board of trustees to identify the most qualified and accomplished healthcare leader.
About Shodair Childrens Hospital:

Shodair Childrens Hospital provides acute and residential psychiatric care for Montana children and adolescents, and clinical and laboratory medical genetic services to residents of all ages. Shodair is a non-profit facility and the states only Childrens Miracle Network hospital. The medical genetics department at Shodair is the states medical genetics program, and provides comprehensive services to patients at the Helena campus and in communities throughout the state via approximately 135 outreach clinics. For more information, visit http://www.shodair.org.
About B. E. Smith:

Founded in 1978, B. E. Smith is a full-service healthcare executive search firm and the top-ranked provider of senior-level leadership services including Interim Leadership, Executive Search and Advisory Services. Veteran healthcare recruiters and regional healthcare experts partner with each client to create customized solutions. B. E. Smiths proven methodology has resulted in the recent placement of more than 900 leaders into healthcare organizations worldwide. The firm utilizes a comprehensive sourcing strategy incorporating the latest marketing techniques, association partnerships, social networking and one of the largest databases of skilled senior-level healthcare executives in the industry to deliver immediate results in todays complex healthcare environment. For more information, visit BESmith.com or call 855-254-8261.