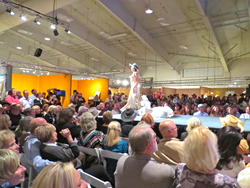 Jackson Hole, Wyo. (PRWEB) March 09, 2015
The Western Design Conference (WDC), the worlds leading celebration and exhibition of Western furniture, fashion and accessories, returns to Jackson, Wyo., Sept. 10 – 13, 2015, at the Snow King Sports & Events Center. The only event of its kind and a signature event of the annual Jackson Hole Fall Arts Festival the WDC Exhibit + Sale was created to spread the traditions of original Western design and develop a platform for artisans to share their constantly evolving craft while giving patrons a way to celebrate, engage and purchase these art forms in a highly entertaining fashion.
Now in its 23rd year, the Western Design Conference promises to attract even more enthusiastic supporters. Allison Merritt, executive director of the WDC for her second year is thrilled to see the growth of the event and the support from artisans and design enthusiasts. Last year, after building on the successes of the previous seven years, I was pleased beyond belief to see our attendance and artists sales reflect the level of interest for the direction we are taking the Western Design Conference Exhibit + Sale, says Merritt. The range of artistry and artisans is exploding and revealing the highest quality work in every genre. As we move forward we believe that not only will we be presenting new and innovative Western-inspired art, much of it will be worthy of museum presentation. This is what keeps us on the cutting edge of presenting the finest American artists.
The Opening Preview Party of the WDC, a much-anticipated night for visitors and locals alike, is scheduled for Thursday, Sept. 10. The party begins at 6 p.m. with an opportunity to shop and meet over 130 artists and craftspeople. Guests view artisans one-of-a-kind creations while sipping signature cocktails and enjoying gourmet bites by Caf