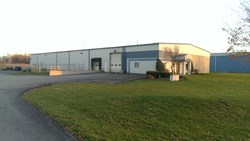 Lockport, NY (PRWEB) November 20, 2013
Its been a big month for Lockport, N.Y.s JACustomworks. Theyve recently moved into a new location at 4903 I.D.A. Park Drive in the Lockport Industrial Park. Theyre also excited to announce that they are launching their product line and their e-commerce website. In order to keep up with our customers demand JACustomworks will soon be looking for new employees in the areas of welding, assembling, and other skilled labor.
The new location was an unexpected opportunity, and has proven to be a great asset in JACustomworks mission; which is creating innovative solutions for the needs of our ever changing world. The 8,000 square feet space was move in ready, with high-efficiency lighting, natural gas heat, overhead fume exhausters, a loading dock, and 18-foot high ceilings; a dream set-up for an ambitious company. Its location off Campbell Boulevard (RT 270) and Upper Mountain Road (RT 93) situate JACustomworks right at the center of Niagara County, NY. Neighboring businesses include the new Yahoo data center and Delphi GM. This central location offers JACustomworks great possibilities.
With the launch of the e-commerce website JACustomworks now has the capability to reach anyone in the world. It can see a need or a problem through all the media and news outlets available. It can then design the prototype, literally overnight and start the manufacturing process as soon as the next day. JACustomworks can get a new product in stock and for sale on the World Wide Web sooner than anyone else. Some products that are already built, stocked, and being sold are ratchet strap rollers, air tool hangers, grinder hangers, brake light covers, trailer plug brackets, kick plates, rear seat compartment, pull rings, European skull mounts, JACustomworks prides itself in creating and selling useful, purposeful, durable products, in sleek styles that make life easier and work more enjoyable. Keep your eye out for some of the awesome merchandise that will be sold at JACustomworks.com in the near future. This day and age, where products are consistently updated, information is easy to access, and change happens quicker than ever before, allows an inventors mind to flourish with ideas of how to make the world better. There are still so many products and ideas that have yet to be thought of, let alone created. JACustomworks plans to be the cutting edge company that will make these revolutionary ideas come to life.
About the Company:
Owner, Jesse Horanburg, established the business in 2007. His creativity and dedication have allowed JACustomworks to grow into a manufacturer of quality products for a variety of different markets. Services JACustomworks offer include, onsite welding, onsite installation, onsite mechanical repair, onsite engineering, TIG/MIG welding, machining, industrial mechanical repair, machine refurbishing, product design, prototyping, OEM reverse engineering, custom repairs, mechanical troubleshooting, design and building of automated equipment. One service capability which truly sets JACustomworks apart is having full onsite fabrication equipment. This includes a 2011 Miller Trailblazer 302, a Miller 12RC remote wire feeder with 80+ feet of cable, a Miller Passport suitcase MIG Welder, a Spoolamatic 30A Aluminum MIG gun, a Hougsen rotary magnetic drill, a portable band saw, Oxygen / Acetylene torches, and a complete tool box with an assortment of necessary hand tools. All of which is transported by a 2001 F250 Super Duty. At the new location JACustomworks currently has two Miller CP-302 welders, a 150A Miller TIG welder, a 350A Miller TIG welder, a horizontal band saw, a 17 ton hydraulic press break, a 4ft sheet metal shear, a hefty assortment of material, a 6 foot by 9 foot granite inspection table, and a fork truck with a 3,500 lb. capacity. Anything JACustomworks does not have on hand, they know someone who does. Local resources are available in a timely manner for when a crane, semi, heavy equipment, or anything else is needed to complete a job. All of these equipment capabilities combined with supreme mechanical knowledge allow JACustomworks to offer their customers a superior turnkey service.