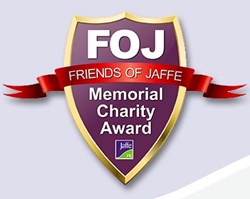 Washington, D.C. (PRWEB) November 21, 2013
Jaffe PR is pleased to name Jeff Kaufman, partner at Oblon, Spivak, McClelland, Maier & Neustadt LLP, as the first recipient of the newly created Friends of Jaffe Memorial Charity Award. The Friends of Jaffe Memorial Charity Award (FOJ Memorial Charity Award) was created to honor the legacy of mentorship and generosity left by Jaffe PRs founder, Jay Jaffe, who passed away on November 21 of last year.
For many years, we at Jaffe PR have used the term Friends of Jaffe, or FOJ, to describe our friends and industry contacts who improve and champion the art of legal PR and marketing, said Terry M. Isner, Jaffe PRs Managing Director of Creative, Marketing and Business Development. What better way to honor Jay than by recognizing the contributions of those who continue to make a difference in legal marketing.
Jeff is chair of Oblon Spivaks Trademark and Copyright Practice groups and a member of the firms Management Committee. As part of the award, Jaffe PR will divide a donation of $ 1,000 between the charities of Jeffs choosing: the American Cancer Society and the Crohns and Colitis Foundation of America.
Jeff has a long history of championing legal PR and marketing inside and outside his own firm, said Vivian Hood, Jaffe PRs Managing Director of Client Services. We are pleased to recognize Jeff for all his efforts.
Each November, a FOJ Memorial Charity Award recipient will be chosen and showcased in Jaffe PRs weekly Newsstand newsletter and on the agencys website. The award winner will choose from a select list of Jays favorite charities, and Jaffe PR will make a memorial donation of $ 1,000 in the names of the award recipient and Jaffe PR.
Jay always had a philanthropic spirit, and we wanted to carry on with that tradition of giving back, said Melinda Wheeler, Jaffe PRs Managing Director of Operations and Finance.
About Jaffe PR
Jaffe PR is a full-service legal marketing and public relations agency, devoted solely to law firms, legal vendors and legal associations. The agency is a recipient of a 2013 Legal Marketing Association Your Honor Award and was named by the National Law Journal as the industrys Best Social Media Consultant in 2012. Jaffe PR offers comprehensive service offerings, including media relations, legal marketing and business development, creative services, content marketing, search engine optimization, and rankings assistance.