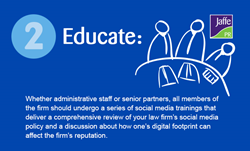 WASHINGTON, D.C. (PRWEB) March 11, 2014
While the legal industry has begun to recognize the marketing power of social media, law firms are left with little authoritative guidance on how to use the tool without running afoul of bar ethics rules. Although some state bars have adopted their own rules with regard to social media use, the American Bar Association has yet to deliver definitive guidelines.
Because social networks transcend jurisdictional lines, a law firm could be in compliance with one state bars rules while running afoul of others, said Vivian Hood, Jaffe PRs Managing Director of Client Services. For law firms that do business in multiple jurisdictions, there appears to be a lot of uncertainty with social media best practices. Too often, then, law firms shy away from any strategic or meaningful use of social media platforms, when instead there could be direction provided by the firm to allow for online engagement.
In light of the lack of clear guidance, Jaffe PR has issued an updated version of its law firm social media policy template to help law firms implement their own social media strategies. The template, which is available on the Jaffe PR website and as a Word file download, provides a comprehensive list of policies and procedures related to law firm, lawyer and staff social media use, including: