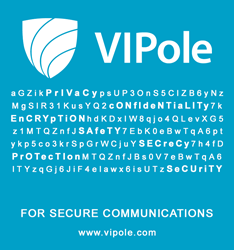 (PRWEB) September 04, 2013
Jambusi Corp., VIPole service provider, based in British Virgin Islands, announced the launch of the new VIPole application for Windows, Mac OS and Android. VIPole is a premium and secure Instant messenger for secure messaging, calls and file storage.
Recent leaks about the massive surveillance efforts of the secretive National Security Agency has caused great concerns about data privacy and security among Internet users.* Revelations over online privacy push people to search for apps that can guard their sensitive communications from prying eyes and protect their personal data from interception and eavesdropping. And that is exactly what VIPole was designed for.
VIPoles strong encryption algorithms provide maximum end-to-end protection for the users data and encryption keys. VIPole software architecture prevents unauthorized users, and even the service provider itself, from intercepting or disclosing a users data. Encryption keys are completely controlled by, and known exclusively to, the VIPole user. This ensures that unauthorized users are technically unable to disclose the protected data, whether they try on their own or they are being forced to disclose it by third parties.
The VIPole application is available for Windows and Mac OS at https://www.vipole.com/download. A mobile version for Android is also available on GooglePlay (https://play.google.com/store/apps/details?id=com.vipole.client). The VIPole interface is multilingual and supports 7 languages: English, French, German, Italian, Portuguese, Russian and Spanish.
VIPole offers a free for life account, as well as professional account that has extended features and a 45-day free trial.
For more information about the VIPole application, visit website at https://www.vipole.com.
About Jambusi Corp.:

Jambusi Corp. is the VIPole service provider, and is based in the British Virgin Islands. Its founders have considerable experience in data protection, cryptography, network technology, reliable data storage, and high-quality internet and VoIP communications. That combined expertise has helped Jambusi Corp. meet all of the communication security requirements, anticipate all risks, and fortify all weak spots of the online communication privacy industry. VIPole is not just an instant messenger with encryption features. VIPole offers an entire bundle of tools to protect communications and data from criminals, competitors, unauthorized persons – and even from the service provider itself.
VIPole contact:

vteam(at)vipole(dot)com

http://www.vipole.com

twitter.com/VIPole_com

facebook.com/pages/VIPole-Secure-Instant-Messenger/516027181767190
*Reuters, August 25th, reuters.com/article/2013/08/25/us-usa-security-nsa-idUSBRE97O08120130825