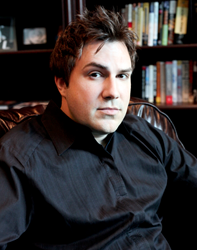 Scottsdale, AZ (PRWEB) May 31, 2015
New rumors have surfaced about an Internet of Things operating system being developed by Google, according to an article on Cnet. Jason Hope, futurist and entrepreneur, believes this may be one of the key missing pieces in the growth and development of the Internet of Things. Brillo, as the OS is reportedly called, will help connected devices better communicate as the Internet of Things grows.
According to Nate Ralph's May 22 article entitled "Google reportedly developing 'Brillo,' an OS for the Internet of Things," the search engine giant is starting to build a smaller version of its Android OS to assist in connecting smart devices. The OS will target low-power devices with 32 or 64MB of RAM, helping it tap into the growth of this latest technological frontier.
"This could be a major development for manufacturers," says Jason Hope. "One single OS for smart-home devices, for example, could limit the compatibility issues some are finding. It will also help consumers who can shop different manufacturers with confidence as long as they are all Brillo products."
It's a major move for Google, too. If Google is successful, the underlying OS for many IoT smart home devices will remain connected to the search engine giant, the article indicates. Of course, the competition is already moving. Huawei has announced LiteOS, its version, and Samsung is working on Artik, a hardware option that makes communication between products easier.
Will Google dominate the IoT OS market the way it has the search engine marketplace? Only time will tell, and the competition is not going to let it get by without a fight, but as most tech experts agree, Google is going to give it a good try with Brillo. If it succeeds, it will become the "de facto backbone of tomorrow's connected smart home," according to CNet, and that is a role Google is eager to take.
About Jason Hope
Jason Hope, entrepreneur, philanthropist and futurist, believes in the power of the Internet of Things to streamline communication and make life more convenient. He uses his resources to support medical research to fight aging and technology research to make the Internet of Things safer and more effective. Learn more about his work at http://www.jasonhope.com.