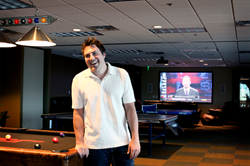 Scottsdale, AZ (PRWEB) September 11, 2014
Anybody could predict the Google Glass or the Apple Watch. "There's a lot more to the Internet of Things than strapping an iPhone to someone's wrist, though," said Jason Hope. These items are some of the most interesting, novel, and surprising new developments made possible by IoT technology:
iKettle
The funny thing about iKettle is how it combines high and low tech in one package. The concept is simple: it lets users turn on the tea kettle from their iPhone, so they can hit the snooze button, start the kettle, and have boiling water ready for some tea or coffee by the time they feel like getting up. This is worth highlighting as a reminder that new ways don't always eliminate old ways. Sometimes, the two enhance each other.
Smart Diapers
Smart diapers will notify parents whenever a diaper needs changing, and even check sodium and hydration labels to identify infections and rashes. This invention helps to show that a user with an Internet of Things-enabled iPhone is sort of like a psychic, able to check a diaper without even looking at it.
Trackdot
A simple invention, Trackdot is just a tracking device that users throw in their luggage. This will let travelers know when their luggage is ready to pick up, no more waiting at the carousel for an hour, and no more worrying about losing one's luggage.
SkyBell
For those who really want to feel like they're living in the future, SkyBell is a doorbell that updates users with photos of who's at the door, allowing them to answer the door remotely.
Septimu Earbuds
Still in development, these earbuds will allow a user's Wifi enabled device to detect what mood they're in. Imagine getting depressed, and hearing Pharrell's "Happy" as a quick pick-me-up, or a phone that knows when its user is feeling awkward, and responds with a fake phone call that they just "need to take."
These devices are exciting, but they're the tip of the iceberg. As Jason Hope puts it, "Yes, the Internet of Things will change how we use our phones, how we drive to work, how we check our heart rates. The biggest changes, however, will probably have to do with bringing non-electronic, analog devices into the digital age."
To read the full article please visit: http://jasonhope.com/some-of-the-most-surprising-iots/
About Jason Hope:
Philanthropist and futurist Jason Hope is a Scottsdale native with a passion for health and technology. His work has brought funding to many important organizations, both in Arizona and in other states, including the Tony Hawk Foundation, Family Health International, T Gen Foundation and the Worldwide Orphans Foundation. Most recently, Hope has been making headlines for his work with the SENS Research Foundation, a non-profit dedicated to fighting aging. Learn more about his work at http://www.jasonhope.com.