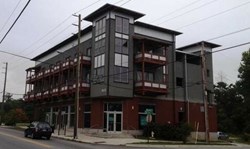 Asheville, NC (PRWEB) October 24, 2013
JB Media Group is moving to West Asheville. Justin Belleme, founder and director of Asheville's premiere Internet marketing agency, JB Media Group, announced today that he's purchased an office space for the company in the Village on Haywood, at 915 Haywood Rd., Unit 101.
The Village on Haywood is a mixed-use business and residential development on Haywood Road, between Mitchell Avenue and Blue Ridge Avenue. JB Media Group's office will anchor one end of the Village, which is designed to be a vibrant community of businesses and neighborhood dwellings.
Construction inside the 1,550 square foot office space will begin over the next few weeks, with a plan to complete the interior by the end of the year. In January 2014, Belleme's nine-person team will move into their new office, an airy space with large windows and abundant natural light. The interior will be highly customized for JB Media Group's team and clients, with plans for stand-up desk spaces, a private conference room, and a kitchenette. The look and feel of the office will draw from a modern, industrial, and sustainable sensibility.
We are a company of passionate locals, and we're excited to add new energy to the West Asheville business community, said Belleme.
Looking Back: From Mojo Coworking to West Asheville
Belleme started JB Media in 2011, specializing in all aspects of Internet Marketing, including search engine optimization (SEO), content development and distribution, online PR, online advertising, and social media strategy. Past and present clients include The Grove Park Inn, The City of Asheville, Tupelo Honey Caf