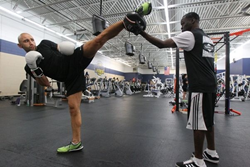 Lockport, NY (PRWEB) March 26, 2015
World-renowned boxing trainer and former IBO Lightweight Champion Jazzy Jeff Mayweather has made a move no other Mayweather has done as of yet. The youngest of the famous Mayweather brothers, Floyd Sr. & Roger, Jeff is also uncle to boxings pound-for-pound king and highest paid athlete in the world, Floyd Mayweather Jr.
Jeff Mayweather has developed a reputation as a well-respected trainer, having trained boxing world champions such as Stevie Forbes, Shannon Briggs, Celestino Cabellero, Sultan Ibragimov and many others. Mayweather managed his nephew Floyd Jr. early in his career and was with him when he won his first world title. Mayweather Jr. is currently scheduled to fight the biggest bout in boxing history when he finally meets Manny Pacquiao on May 2 in Las Vegas, NV.
Since the recent rise of Mixed Martial Arts to the combat scene and the UFC booming as a mainstream organization, the industry standard of one coach has drastically changed. It is not uncommon to see a combination of a Jiu Jitsu, boxing, Muay Thai and conditioning coach all working with a single athlete.
In 2012, Muhammad Lawal, an exciting and hard-hitting mixed martial artist known as King Mo, approached Jeff Mayweather and asked him to help take his boxing to a new level.
King Mo was my first fighter, Mayweather stated. We are still together today, and I love him like a brother.
The duo has become quite successful with King Mo currently on an impressive three-fight win streak in Bellator. With the success of King Mo, several other MMA athletes began approaching Mayweather for his boxing expertise, which he openly accepted.
I enjoy working with MMA fighters because they are willing to let me mold them without any preconceived notion that they know the game, said Mayweather.
Mayweather currently works with K-1 Kickboxing superstar Dewey Black Kobra Cooper, as well as undefeated kickboxer and no. 2 world ranked Intercontinental Champion Amer Abdallah. Mayweather has worked with several other MMA fighters in the Florida-based American Top Team, including Big Country Roy Nelson.
Being the first big boxing trainer to cross over to the MMA world has kept Jeff Mayweather quite busy. From professional boxers such as his prot