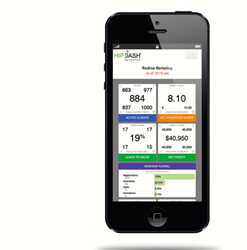 Phoenix, Arizona (PRWEB) May 01, 2014
eyefire Chief Executive Officer Jeremy Bowman and Chief Marketing Officer Woods Davis cant take their eyes off the prize, the prize of HipDashs new smart dashboards for smart business. Hip Dash has been brought to life by eyefire Chief Technology Officer Jay Patel and Chief Software Architect Dattu Joshi.
We just found each other, says Jeremy Bowman when asked how they were able to assemble such a special and talented team. All four co-founders play vital rolls. We trust one another. We inspire each other in different ways. For example, when we watch Jay Patel and Dattu Joshi make our vision a working reality, it inspires Woods and me to make sure we match do our very best for them. Thats what makes the best teams, adds Bowman. When every member of a team inspires every other member to perform their best work.
Hip Dash by eyefire gives small business leaders power by enabling them to know exactly whats happening in their business real-time. More powerful than that, says Woods Davis, is that HipDashs proprietary Smart Indicators literally tell you what to do. It eliminates hunches and wondering and restores confidence and swagger to small businesses.
Hip Dash currently integrates with QuickBooks, Infusionsoft