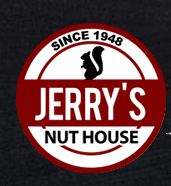 Denver, CO (PRWEB) September 17, 2012
Officials with Jerrys Nut House announced today that it will now offer candy in bulk to those looking for great tasting candy in mass quantity.
We have approximately 90 different kinds of candy that we now offer in bulk, said Nick Julia, Internet marketing manager for Jerry's Nut House, which carries bulk nuts, bulk candy, bulk dried fruit, bulk trail mixes, bulk snacks, and bulk chocolate. We are more than just M&M's or Jelly Belly Candy. We have just about any sort of hard or soft bulk candy that you can imagine.
Julia explained that the companys bulk candy is specifically designed for anyone who is looking for wholesale candy, building their own sweet factory, purchasing bulk wedding candy or just loading up on bulk Halloween and Christmas candy.
If youre looking to start bulk candy vending, then you'll love our selection, Julia stressed. We have both wrapped and unwrapped bulk candy.
Jerrys Nut House, which has been honored by Celebration Media, U.S. (CMUS) as one of its 2011 Talk of the Town Award Recipients in the category of top Candy Stores, described its bulk candy selection as one of the most comprehensive on the market today.
We love putting smiles on people's faces when they get exactly the candy they are looking for, Julia noted. If for some odd reason you can't find the candy youre searching for, we're happy to try and get it for you, just give us a call. We're here to fill all of your sweet bulk candy dreams.
As to why anyone should try Jerrys Nut Houses bulk candy, Julia said, This is your bulk candy shop. Really we only have one rule in this bulk candy store: Enjoy.
About Jerrys Nut House
Jerrys Nut House was founded in Denver by Jerry Levine and his wife, Roie.
Jerry first got the idea for the business when he came home from serving in the Army during World War II and began attending the University of Denver.
While he was a student at the University of Denver, to help support himself Jerry worked part time with his brother delivering snacks like Atomic Pickles, deviled eggs and nuts.
The nuts so intrigued Jerry that he began studying how they were grown and processed. Then after he finished college and stopped working with his brother, Jerry decided that nuts were his real passion.
Jerry began buying, roasting and selling nuts throughout the Rocky Mountains.
Today, more than 60 years later, Jerrys Nut House has become well-known for its attention to detail and high standards in producing freshly roasted nuts and other snack items. Search for us on Google: http://goo.gl/inXLr
###