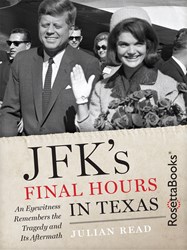 New York, NY (PRWEB) October 07, 2013
The Dolph Briscoe Center for American History, The University of Texas at Austin, and leading independent digital publisher RosettaBooks today announced the publication of JFKs FINAL HOURS IN TEXAS: An Eyewitness Remembers the Tragedy and Its Aftermath by Julian Read, as a hardcover and eBook, respectively. The national media representative for Texas Governor John B. Connally in 1963, Read is one of the few remaining eyewitnesses to the tragedy who was on the White House press corps bus as part of President John Kennedys motorcade in downtown Dallas on November 22. Now, for the first time, Read describes the agony of that day and the weeks immediately following for those at the epicenter of the tragedy, and the history-changing legacies of the Kennedy assassination for Texas and our nation.
Julian Read rode within full view of JFKs limousine, which was driving slowly less than 200 yards ahead, uncovered so enthusiastic crowds could see the charismatic first couple and their Texas hosts, Governor and Mrs. Connally. From his front seat, Read had a clear view across the bus driver onto Dealey Plaza, looking down the incline at the presidential car as it rolled past the School Book Depository. Suddenly, he heard a loud popand then, two morethat changed the course of history.
He rushed to Parkland Memorial Hospital, where he found the First Lady, in her pink suit, and Nellie Connally in the deserted hall outside the trauma rooms where their two husbands were fighting for their lives. There, Mrs. Connally told Read what occurred in the limousineinformation he used to give the first briefing to the press and the world at Parkland, moments after White House Deputy Press Secretary Malcolm Kilduff announced to a stunned gathering that the president had died.
As an 18-year-old cub reporter for the venerable Fort Worth Press, Read had founded his own fledgling advertising and publicity shop and had gained recognition in helping to elect an underdog politician named Jim Wright, who later became speaker of the U.S. House of Representatives. Intimately involved from the beginning in John Connallys successful campaign for governor of Texas in 1962, Readlike Connally, the son of a poor Texas dirt-farming familybecame and remained his counselor, confidant, and consigliere for more than 30 years.
In JFKs FINAL HOURS IN TEXAS, Read covers fifty years of history in the making from the perspective of a native Texan present for the incomprehensibly shattering body blows of that horrific day in Dallas, the weekend that followed and throughout the traumatic monthsand yearsof recovery in the aftermath. He recreates the momentum of the presidential visit and the unfolding political and social change afterwards, including: