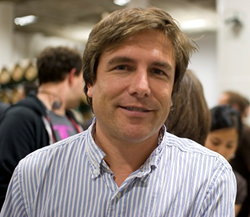 New York, NY (PRWEB) April 16, 2015
wochit announces that top media and technology executive Jim Louderback has joined the company as Brand Evangelist. Louderback is among the best-known startup and technology advisors in the world. He currently serves as Editorial Director of Vidcon 2015 and is advising a variety of other startups at the intersection of media and technology. Previously, he served as CEO of Revision3, GM of Discovery Digital Networks, SVP and Chief Content Officer for Ziff Davis Medias Consumer group, and Editor in Chief of PC Magazine.
wochit, the cloud-based video creation platform, enables publishers to turn their stories into quality video in minutes, affordably and at scale. wochit helps these digital properties create and publish real-time video stories on the web, social and mobile.
wochit is a true innovator in the world of video creation, says Jim Louderback. Not only does the platform have legitimate and licensed access to the best video sources, it has democratized video creation by letting amateur editors and producers (and really anyone) create fascinating videos in minutes.
Jim brings a wealth of knowledge, perspective and edge to wochit and we are thrilled to have him as a strategic advisor says Dror Ginzberg, CEO and Co-Founder of wochit. His experience with technology, media and in particular his savviness in the world of video mixed with his explosive energy, will help evangelize our brand and expand our community to include thousands of creators.
wochit clients include Gannett, Huffington Post, AOL, Yahoo!, Focus Online, Die Welt, and la Repubblica, among others. See a few national and international wochit client videos here:

Harrison Ford Crash

China Forbids U.S. Interference

Kanye West Goes Swimming
About wochit

wochit is a revolution in short form video. The cloud-based video creation platform enables publishers, marketers, bloggers, journalists, and any storyteller to instantly react to any story and economically scale branded, original video content. wochit is the Winner of both the Gutenberg Prize, for its disruptive technology in the field of journalism, and Digidays Best Video Technology Innovation, for its significant impact on clients bottom line. The Company is backed by Cedar Fund, Greycroft Partners, Marker LLC and Redpoint Ventures. wochit is based in New York, with offices in Los Angeles, London and Tel Aviv. Find out more at wochit.com.