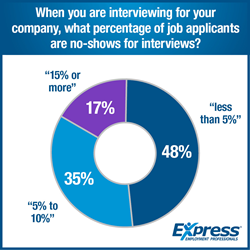 OKLAHOMA CITY (PRWEB) March 25, 2015
Express Employment Professionals today released survey results revealing what percentage of job applicants are no-shows for interviews.
Of the more than 400 businesses surveyed, 17 percent said 15 percent or more of their interview candidates do not show up. Additionally, 35 percent of those surveyed said five to 10 percent are no-shows.
"Heres Rule No. 1 for job interviews: show up, said Bob Funk, CEO of Express and a former chairman of the Federal Reserve Bank of Kansas City. "Im amazed that so many businesses report that job applicants dont show up for their interviews. An interview is always a valuable experience. At the very least, its good practice for that next interview. And its never a good idea to earn a bad reputation with a potential employer.
"Of course if someone doesn't show up because they found another job, thats great news. But its also good manners to call and let the company know dont just fail to show up," Funk said.
"From my experience, no shows come from all walks of life and cover all sorts of jobs. It doesn't matter if its a white or blue collar job some people just dont show up for interviews," Funk said.
The survey of 404 businesses was conducted in December 2014 and January 2015. The respondents are current and former clients of Express Employment Professionals. Respondents were asked, "When you are interviewing for your company, what percentage of job applicants are no-shows for interviews?"
***

If you would like to arrange for an interview with Bob Funk to discuss this topic, please contact Sherry Kast at (405) 717-5966.

About Robert A. Funk
Robert A. "Bob" Funk is chairman and chief executive officer of Express Employment Professionals. Headquartered in Oklahoma City, the international staffing company has 725 franchises in the U.S., Canada and South Africa. Under his leadership, Express has put more than five million people to work worldwide. Funk served as the Chairman of the Federal Reserve Bank of Kansas City and was also the Chairman of the Conference of Chairmen of the Federal Reserve.
About Express Employment Professionals

Express Employment Professionals puts people to work. It generated $ 2.85 billion in sales and employed more than 456,000 people in 2014. Express ranks as the largest franchised staffing company and second largest privately held staffing company in the United States. Its long-term goal is to put a million people to work annually.