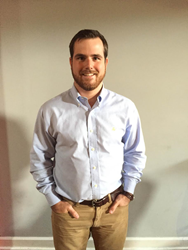 Nashville, TN (PRWEB)
July 01, 2015
Horton Group, a leading Nashville marketing agency, has hired Jordan Ridge as Inbound Marketing Strategist. Ridge will be responsible for planning and executing inbound marketing campaigns using HubSpots world-class inbound marketing platform
Working on the Inbound Marketing team for Horton is a dream come true because I have the opportunity to work downtown in a vibrant city with unique and diverse clientele, said Ridge. Plus, developing marketing strategies and creating content requires an active balance of creativity and strategy that, to me, gets me excited to go to work every day.
Ridge is a passionate vision caster who values all areas of an organization working together for success. Inbound is how he sees marketing integrating all facets of a business. Prior to joining Horton Group, he held an internship at Room in the Inn, a local nonprofit focused on helping the less fortunate. While there, Ridge helped develop social media fundraising strategies for the company's Street Smart campaign.
Ridge holds degrees in Human and Organizational Development and Spanish from Vanderbilt University. While in college, he served as Vice President of Beta Upsilon Chi Nu Chapter, where he was responsible for the social development and presence of the fraternity chapter. His hobbies include reading poetry, writing and performing spoken word, Braves Baseball, and cheering on any Vanderbilt sports team.
You can reach Jordan Ridge at Jordan(at)hortongroup(dot)com or by calling Horton Group at (615) 292-8642.
ABOUT HORTON GROUP

Horton Group is a digital marketing agency based in Nashville, TN. The agency provides a full suite of of digital marketing solutions, from inbound marketing to website design and development. Horton Group has extensive experience working with clients from various industries, including nationally recognized brands.