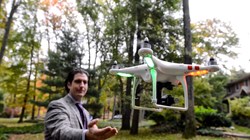 Alpine, NJ (PRWEB) November 14, 2013
Joshua Baris of Prominent Properties Sotheby's International Realty (PPSIR), one of the most recognized Realtors in Northern New Jersey, utilizes a wide range of technology to break records when selling New Jersey Luxury Real Estate.
Baris provides his clients with instrumental services and advanced technologies such as elevated real estate photography, utilizing tiny drone helicopters (such as the one shown above) with cameras to capture high-definition video and areal images via hand-held remote control.
This type of photography captures my properties from a unique view, which is just another way to help enhance my listings, says Baris.
He also recently launched a video of one of his luxury listings, 2 Canterbury Ct in Alpine, NJ rated by Forbes as one of Americas Most Expensive Zip Codes with an asking price of $ 3,988,000 which is generating a tremendous response and international exposure.
Baris is also known within the New Jersey real estate community as a trend-setter for his clever use of online digital advertising and sensational social media and marketing techniques. As one of New Jerseys Top Real Estate Agents, Baris utilizes cutting edge technology when listing his luxury homes for sale in Bergen County cities such as Alpine, Englewood Cliffs, and Tenafly, NJ.
Joshuas vast knowledge of social media and his implementation of digital marketing techniques separates him from other agents in todays highly competitive world of Real Estate, stated Michael Oppler, Vice President of Career Development for Prominent Properties Sothebys International Realty, "Josh has a great reputation, and has established himself as a trend-setter and leader. Although clich