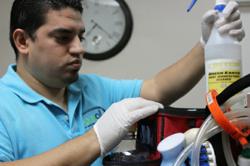 New York, NY (PRWEB) December 05, 2012
Accion East and Online, a leading U.S. microlender with over twenty years of lending history in New York City, announced a grant commitment of $ 250,000 by The JPMorgan Chase Foundation to expand its Sandy Recovery Business Loan Program to $ 725,000 in loan capital plus $ 108,000 in grant funding, for a total of $ 833,000 in support to hard-hit small businesses.
"As a long time partner with Accion, it was no accident that we joined together once again. We at JP Morgan Chase believe in Accion's capabilities and are confident they will be a catalyst in the recovery efforts for the community of micro entrepreneurs that are too often forgotten, said Kim Jasmin, Northeast Region Executive at JPMorgan Chase Foundation. Accion's work aligns with our firms interests to support all segments of the small business community and this among many other investments will help restore neighborhoods and businesses in areas hardest hit by hurricane Sandy"
The Sandy Recovery Business Loan Program is targeted to small business owners who will not qualify under traditional loans or existing emergency loan programs due to low credit scores, limited financial records and/or the need for greater monthly payment flexibility. The program offers loans up to $ 25,000, with zero interest and no payments for the first three months and a fixed 4.99% rate thereafter. In addition, each small business owner under the program will receive a grant equal to 15% of the loan amount to accelerate their recovery efforts.
Our program is aimed at serving the most credit challenged and informal sector of the New York economy, said Paul Quintero, CEO of Accion East and Online. This program exists because many caring individuals and institutions realized that quickly supporting vulnerable and small business owners was critical to the economic landscape of New York City.
Initial supporters for the program included thousands of individuals through Groupons online and grassroots fundraising platform, The Robin Hood Foundation and a local philanthropist who together created the initial $ 250,000 loan fund in early November. Soon thereafter, Accion received support from Morgan Stanley, Bank of America Merchant Services and Union Bank to increase the loan fund to $ 500,000. The recent $ 250,000 grant from The JPMorgan Chase Foundation expands the loan fund to $ 725,000 and enables Accion to also provide $ 108,000 in direct grants, creating a unique feature for the program and an extra boost for entrepreneurial success.
In order for small businesses to rebuild and recover from Hurricane Sandy, access to capital is critical, said Audrey Choi, Managing Director and Head of Global Sustainable Finance at Morgan Stanley. Accion's program will help rebuild businesses while also promoting longer-term sustainable economic development in the communities where they operate.
To date, Accion has closed four loans totaling $ 48,000 under the program and is actively working on 15 others. Accions process is fast, with a historical turnaround time of less than 10 days from application to disbursement.
"Our focus with all of our philanthropic efforts is community empowerment and neighborhood resilience, said Patty Huber Morrissey, Manager of Groupon Grassroots. Our response to Sandy, led by a partnership with Accion, focused on long-term recovery of Groupon merchants and the small business community at large."
Small business owners interested in applying can visit http://www.accionusa.org/sandy, call 866-245-0783 or apply in person at our office at 115 East 23rd Street, 7th Floor. Basic loan requirements include a credit score of 525 or higher and sufficient cash flow to make monthly loan payments.
About Accion East and Online

Accion East and Online is a nonprofit microlender that provides lending and financial education to entrepreneurs in New York City and nationwide. By sparking ideas and empowering self-starters, Accion helps local businesses and communities grow by driving job creation and retention with each microloan. Since opening its doors in 1991, Accion has provided over $ 132 million in capital to entrepreneurs, creating and saving over 73,500 jobs within local communities. Accion East and Online is part of the Accion U.S. Network, the largest microfinance network in the United States. Globally, Accion is a pioneer in microfinance, reaching millions of individuals through its international network of partners. For more information on Accion East and Online visit http://www.accionusa.org
For more information contact:

Alejandra Boggiano – Accion East and Online

Phone: Work – 646-833-4553, Cell – 619-954-4235

Email: aboggiano(at)accionusa(dot)org