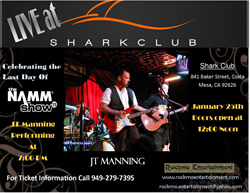 Los Angeles, California (PRWEB) January 04, 2015
Singer/songwriter JT Manning is a maverick in the contemporary Rock and country music world. He lavishes on the Ladies with his sultry ballads, sings a witty song about modern life and the battles that occur, he then sings a sweet Blues melody accompanied by guitar, swings a hot R&B number, and then reaches deep for a soulful expression of values in a troubled world. He tops it all with a fun loving family song about a father doing the best he can– all skillfully blended into a seamless flow. One fan said, It's music from the heart that hits you right between the eyes."
A mainstay on the Los Angeles and Orange County circuits these past 4 years, JT has 2 albums to his credit; the latest Another Round released in 2014. Recently JT has performed with The Fifth Dimension at the Saban Theater in Beverly Hills and performs regularly at the Coach House and the House of Blues Sunset. On the heels of The NAMM show, JT will be performing with and heading up a great Line up, which will include The Usual Suspects, Storm Boyer and Justine Abigail all of which are managed by Rockmo Entertainment.
It's hard to imagine another artist on the County/Rock scene who combines the same concise, deceptively understated, lyrical insight and sometimes devastating wit with such world-class prowess. – Vaneric Marshall LA Talk Live
JT and his band will take the stage at 7:00 PM.
For Ticket Information:
CONTACT:

John Rockmore

Rockmo Entertainment

562-597-1602 Office

562-326-4594 Cell

Rockmo(dot)entertainment(at)yahoo(dot)com

http://www.rockmoentertainment.com